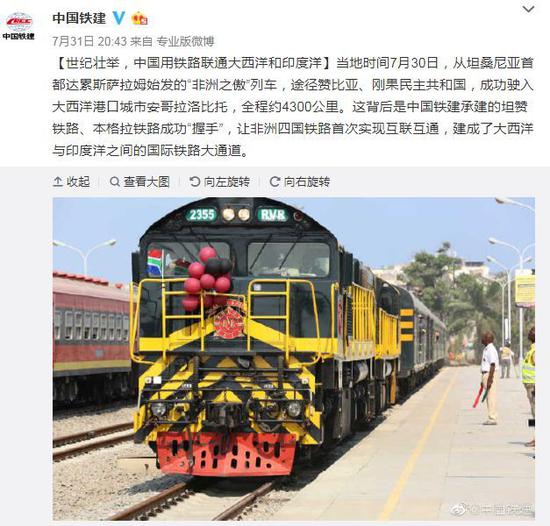 A screenshot from the Weibo account of China Railway Construction Corporation shows a luxury tourist train arriving at the station in Lobito, Angola, on July 30, 2019. (Photo/China Plus)
Special: 70th birthday of PRChina
A luxury tourist rail train linking the Pacific and Atlantic coasts of Africa completed its first journey and arrived in Lobito, Angola on Tuesday. It is the first rail line crossing the continent from the east to west.
The train departed Dar es Salaam, Tanzania on July 14 with 54 tourists onboard.
The 4,300 kilometer line includes two significant parts—the Tazara Railway assisted by the Chinese government in the 1970s and the Benguela railway built by China Railway Construction Corporation from the turn of the century.
After a decade of efforts by Chinese and Angolan workers, the 1,344-kilometer long Benguela railway was put into operation in 2017.
An Angolan resident who took part in the construction said the railway has brought great change to his country. It facilitates local transport and brings more business opportunities. What he learned during the construction also helped him in his future career.