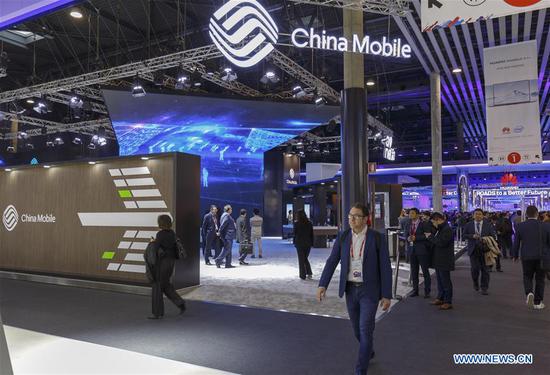 People walk past China Mobile's booth during the first day of the 2018 Mobile World Congress (MWC) in Barcelona, Spain, on Feb. 26, 2018. [Photo/Xinhua]
China Mobile made an official announcement on their website on May 11 after the U.S. Federal Communications Commission (FCC) barred their application from the U.S. market, suggesting the U.S. government is now putting "unreasonable pressure" on Chinese companies.
The company said the FCC's decision is against market principles and the trend of economic globalization since there is no apparent evidence to support FCC's action after an investigation that lasted over seven years.
China's Foreign Ministry Spokesperson Geng Shuang on May 10 also urged the U.S. to abide by market economy principles, stop the practice of featuring national security in every issue, and stop the unjustified oppression of Chinese enterprises.
The FCC's ban on China Mobile comes under the pressure from the Trump Administration, according to Bloomberg.
So far, tariffs on 200 billion U.S. dollars' worth of Chinese goods have risen to 25 percent from 10 percent starting on Friday.
Donald Trump also threatened to impose 25 percent tariffs on an additional 325 billion U.S. dollars' worth of Chinese goods "shortly," saying the trade deal with China is moving "too slowly" as Beijing "tries to renegotiate."
"The move carried out by the FCC is part of the 'Tech Cold War', and the reason behind it is that the U.S. security evaluation system on Chinese technologies has been through radical changes", Zhu Feng, Dean of the institute of international relations at Nanjing University said.
"The supposed-to-be normal commercial bid has been misinterpreted as a 'China Threat'. They should provide an open environment, but what they do now clearly don't match with their words of offering a fair competition market principle," Zhu added.
After the unanimous vote on China Mobile, FCC Chairman Ajit Pai also said that the agency is "looking at" the authorizations granted earlier to China Telecom and China Unicom, the other two major telecom operators in China. But he declined to comment on what the investigation process would be.