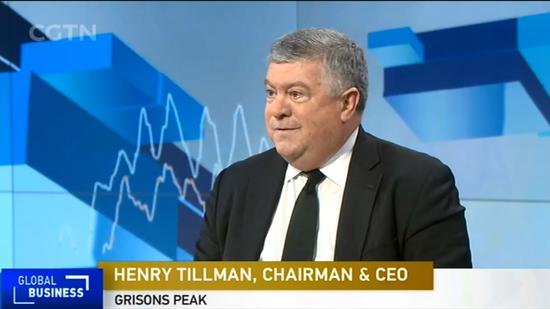 Henry Tillman, chairman and CEO of Grisons Peak. / CGTN Screenshot
China has become a key player of international investment and trade, and Henry Tillman, chairman and CEO of Grisons Peak, attributed the change partly to the country's capital structure and better participation in investment.
China took serious measures to open capital structure this year, according to Tillman, which made the country the world's most attractive destination for global investment.
Data from China's Ministry of Commerce shows that China's FDI hit over 793.3 billion yuan (120 billion U.S. dollars) in the January to November period, while foreign trade volume grew over 11 percent.
Tillman said that the increase is also because China continued opening the finance sector to more foreign ownership.
"Measures have been taken to increase ownership – banks, insurance last year. And this year automotive and heavy industry," said Tillman, "so decreasing outbound and increasing inbound is a positive trend for China."
When commenting on China's Belt and Road Initiative, Tillman said, "the Belt and Road is going much faster people have any idea." He also added that the Polar Silk Road is expecting more action, as it deepens trade cooperation along the Arctic Ocean amid global trade tensions.
Russia and China agreed to carry out the Northern Sea Route cooperation in July 2017, and it is widely seen as the third arch of the Belt and Road, adding another sea route in addition to the South China Sea, the Indian Ocean, Africa and the Mediterranean, and the South Pacific and Oceania.
While pursuing its own interests, China will pay due regard to the interests of other countries, as Tillman added that the Polar Silk Road will broaden the international community as well as help energy production and deepen trade cooperation amid global trade tensions.
A series of gas field in Siberia that will come online over the next few years will "dramatically" increase Russia's production capabilities, Tillman said. "In 2017, Russian LNG is around 11 million tons a year. By 2021, it's estimated at around 50 million tons a year, by 2035 that's 120 million tons. Given the fact that Qatar only produces 70 million tons a year, it puts Russia in a very strong position," said Tillman.