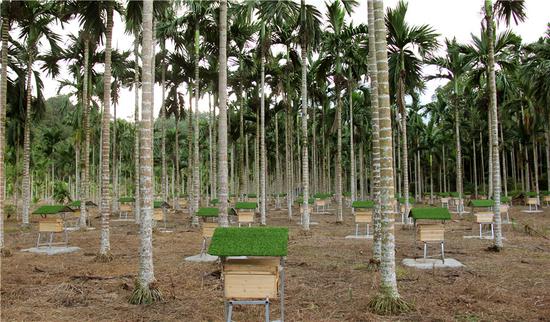 Beekeeping is now a major source of income for farmers in Qiongzhong, Hainan province.(Photo: For China Daily/Zhu Dequan)
Special: 40YearsOfReform
Hainan has long impressed visitors with its enchanting tropical sea views and quality hotels at its coastal resorts. But now the allure of the island province's mountainous central areas is also unfolding - rich and colorful ecological resources, along with the traditional culture of native Li and Miao ethic groups. It's a splendid mix of national and world intangible cultural heritage.
Qiongzhong Li and Miao autonomous county, in the center of Hainan, is one of the regions that has been transformed thanks to new infrastructure, comprehensive poverty alleviation efforts and the development of ecological civilization in recent years.
Located in the heart of Hainan's ecological systems, Qiongzhong attracted more than 1.32 million tourists last year with its beautiful natural environment and rich ethnic culture and lifestyles, which are vividly on display in every village and public location around the county.
Of Qiongzhong's 216,700 residents, 51.9 percent are of the Li ethnic group, and 7.1 percent belonging to the Miao. Surrounded by mountains, including Wuzhi Mountain - the highest peak in Hainan at 1,867 meters - and Limushan, the mother mountain of the Li people, the county had long remained secluded and economically backward. By the end of 2017, 3,883 of its 74,386 households were still impoverished.
Incomes improving
However, in the past five years, especially since 2015, when President Xi Jinping launched a nationwide poverty reduction campaign and vowed to end extreme poverty by 2020, the county has accelerated its efforts to improve incomes and develop ecological civilization in line with the plans of the central and provincial governments, said Sun Zhe, Party chief of Qiongzhong.
She said the county has launched many green projects to protect the island's precious ecological systems.
One major project was the countywide rural daily life wastewater treatment project, which was launched in early 2016 to protect the headwaters of Hainan's three major rivers - the Nandu, Changhuang and Wanquan - which supply drinking water on the island.
Farmer Wang Minglan, 60, from Dabian, the county's first demonstration village for the project, starts her daily work cleaning the garden at the village entrance and monitoring the operation of her village's wastewater treatment facilities, around which lush wetland plants such as cannas, calamus and grass grow vigorously. Wang earns a monthly salary of 900 yuan ($140).
Nearby is a pond of about 660 square meters that is filled with treated water in which fish abound. Farmers can use the resources for rice cultivation, free of charge.