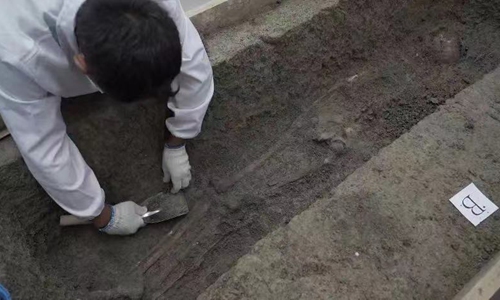 (Photo/Courtesy of Asian Archaeology)
Human DNA dating back to 6,000 years ago has been found in tombs in Wuxi, East China's Jiangsu Province.
Experts believe that the discovery will fill a gap in the ancient DNA research in southern China, which was once hindered by environmental factors and poor preservation.
"It provides an important reference for understanding the origin and migration of prehistoric archaeological cultures in the lower reaches of the Yangtze River," Du Panxin, a research fellow at the Institute of Science and Technology Archeology, Fudan University, told local media Jiangnan Evening News.
"However, the ancient DNA data from the Yangtze River basin is still limited, so it is very important for us to continue to carry out this kind of work," Du explained.
The site belongs to the Majiabang Culture, a Neolithic culture in the lower Yangtze River region and the earliest Neolithic culture found in Wuxi.
The achievement was announced at the inauguration ceremony for the East China Workstation at the Key Research Base of the National Cultural Relics Bureau in Wuxi on Sunday. According to the news report, the workstation will carry out scientific and technological research, strengthen preventive and rescue protection of cultural relics and accelerate breakthroughs in key core technologies.
More details of the findings show that the sample came from a male.
Comparing the sample with published mitochondrial DNA data from ancient ar-chaeological sites in various countries, it was found that this DNA is the same as that found at ancient sites in places including northern Vietnam (4,000-2,000 years ago), northern Laos (3,000 years ago), Indonesia (2,000 years ago), Philippines (1,800 years ago), China's Guangxi (1,500 years ago) as well as northern Thailand (2,500-800 years ago).
The human DNA was discovered and analyzed inside two Majiabang tombs after they were excavated in June. Started back in April 2022, archaeological work around the site has discovered 106 traces of ancient human activities, including the two tombs.
According to experts, by comprehensively analyzing and comparing the environmental differences, living and production levels, artistic and aesthetic inheritance and human physical changes between then and now, the excavation has revealed that the human history of Wuxi dates back to at least 6,000 years ago.
The relics and artifacts unearthed from the site have become "living fossils" of the matriarchal society in the area.
The Majiabang Culture was named after Majiabang village in Nanhu, East China's Zhejiang Province, where it was first discovered in 1959.
Archaeological surveys over the years have shown that the Majiabang Culture, a matriarchal society, was bridged by the Songze Culture before this area completely developed into a patrilineal society. After that it reached the threshold of state civilization after it combined with the Liangzhu Culture, a highly developed ancient culture in the late Neolithic Age in the Yangtze River Delta.