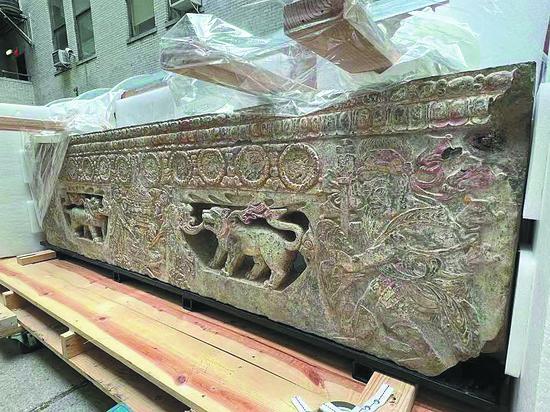 Two important carved stone relics that are more than 1,000 years old were repatriated by the United States to China during a ceremony in New York City on Tuesday. (Photo provided to China Daily)
Relics: Shared heritage of mankind emphasized
Two important carved stone relics that are more than 1,000 years old were repatriated by the United States to China during a ceremony in New York City on Tuesday.
During the ceremony in the Manhattan District Attorney's Office, Huang Ping, consul general of China in New York, signed the repatriation agreement and received the two relics on behalf of China's National Cultural Heritage Administration.
The two artifacts are stone funerary beds with carved, decorative patterns. Dating to a period between the Southern and Northern Dynasties (420-581) and the Tang Dynasty (618-907), the relics are of high historical, scientific and artistic value, according to a statement by the cultural heritage administration.
The relics were seized this year by the Manhattan District Attorney's Office and U.S. Homeland Security Investigations as part of a criminal case. The National Cultural Heritage Administration cooperated with the U.S. side to launch the repatriation process in April.
The administration has arranged to send the relics home, but a timeline has not yet been announced.
Huang said at the ceremony that the repatriation demonstrated the close cooperation between China and the U.S. in cultural relics protection. Such cooperation was beneficial for mutual understanding and friendship between the people of the two countries, and it added positive energy to the bilateral relations, he said.
Noting that the relics have witnessed drastic historical changes, Huang said people should view and solve problems from a historical perspective.
China-U.S. relations should be decided by the two country's common interests, shared responsibility and the friendship of their peoples, Huang added.
The repatriation set an example for international cooperation in cracking down on the illicit trafficking of cultural relics and on protecting such relics, and it demonstrated enhanced intergovernmental cooperation, he said. It will also improve the international community's awareness about protecting the shared cultural heritage of mankind.
Lisa Del Pizzo, who represented the Manhattan District Attorney's Office, said at the ceremony that it was the second time since 2021 that her office had cooperated with China on the repatriation of cultural relics.
Del Pizzo said she expected the repatriation to send a clear signal that China and the U.S. would continue active collaboration in the investigation, retrieval and return of stolen cultural relics.
Since 2015, the U.S. has returned 404 lost Chinese cultural relics and a fossil to the National Cultural Heritage Administration.
In 2009, China and the U.S. signed a memorandum of understanding on restricting U.S. imports of Chinese cultural relics, offering a basis for the repatriations. The memorandum was renewed in 2014 and 2019.
Categories of archaeological material from the Paleolithic period through the Tang Dynasty, as well as monument sculptures and wall art that are at least 250 years old, were included in the memorandum's restrictions.