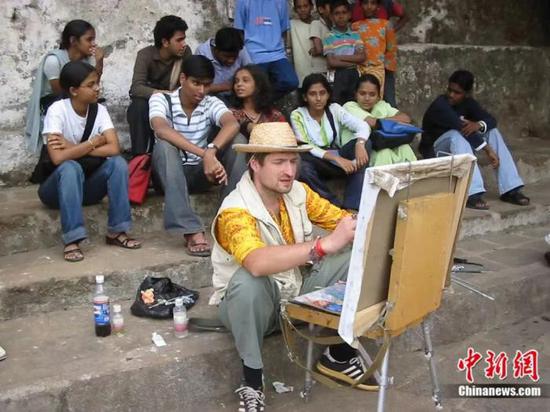 Special: W.E. Talk 东西问 · 中外对话
By TIAN Bing, China News Service (CNS)
Moscow, Aug. 28, 2022(CNS)——An exclusive interview with the Russian painter Alexander Yegorov, a corresponding member of the Russian Academy of Arts. At a gallery in Moscow, Yegorov held the opening ceremony of the exhibition of "Abundant Material and the Vast world" on Aug. 13. Yegorov accepted an exclusive interview with China News Service on the similarities and differences in technique between Eastern and Western painting; how to view the inheritance and innovation of painting; and how to integrate and develop art under the East and West's different ways of thinking.
Excerpts from the interview:
China News Service: In the history of painting in Russia, there are many masters, and their works show strong national characteristics. How do you view the tradition, innovation, and diversification of the art of painting?
Alexander Yegorov: In more than 500 years of European painting art history, we can see the perfect integration of the spiritual and the physical world. From ancient Greek art to academic art in Europe, artistic thought was faced with great changes in social times and values. Since ancient times, every age has tried to find new paths in a more profound and accurate way.
Russian painters laid the foundation for the development of modern art. For example, [Alexander] Ivanov's "Appearance of Christ Before the People" took nearly 20 years to be created. From an academic perspective, it is an unrivaled work, but it does not fully express the painter's inner feelings from an artistic perspective. There is too much uncertainty in Russian painting, which also brings great difficulty to artistic creation. Not every work will be as perfect as people imagined.
[Ilya] Repin's "Barge Haulers on the Volga" has a further influence on people. The commitment reflected in the characters' inner hearts makes it classic. [Repin's] "Ivan the Terrible and his Son Ivan" conveys a sense of regret and horror that makes you feel as if you're watching a play. That's the mixed feelings art conveys to people. Artists allow people to find more resonance in their paintings through their inner hearts.
I have participated in many international exhibitions and worked in many countries. In my works, you can see different materials and forms of expression. Inheritance does not mean copying or not changing. On the contrary, it means breaking the rules to find the spiritual core that is more suitable for contemporary civilization. By constantly changing and adding new elements, the art of painting can be sublimated and even advanced.