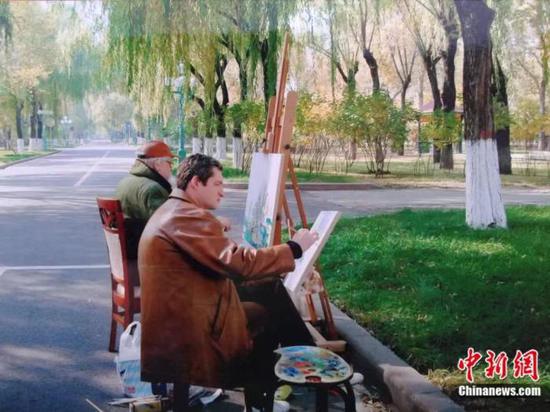 Special: W.E. Talk 东西问 · 中外对话
CNS: You have been invited to China many times for lectures, exhibitions and sketching. What impressed you, and what do you think of the interaction between the two countries in the art of painting?
Yegorov: My first visit to China was in 2007 when I was invited by the Harbin municipal government to have an exhibition of paintings and exchanges with the Yushun Art Museum. When I visited the exhibition of Jin Shangyi's work in the National Art Museum of China in 2009, I felt the Russian painting style spontaneously. I was invited to an exhibition of Li Xiaolin's work in Guangzhou; each of his character sketches is like a world with independent artistic spirit and language. The emotion of Chinese artists involved in their works is so real and delicate, which makes me admire them more. Around 2011, I participated in large-scale activities like the Beijing International Art Biennale, the Taiwan Youth Art Exhibition and the Guangzhou International Art Fair, and I had extensive exchanges and more international Chinese art.
In 2012 and 2013, I was invited to Southwest Minzu University to hold a solo exhibition and give a lecture. The models in the figure-painting class were from different nationalities. They kept their national languages, costumes, customs and so on, and learned and communicated with one another. This kind of inclusiveness and diversity attracts me even more. In addition, I have been invited to hold exhibitions and sketch in Dalian, Mudanjiang, Sanya, Chengdu, and other cities many times. Chinese respect for artists and their yearning for art are beyond those in Europe. Chinese art is increasingly recognized by the international community, and young Chinese artists are playing an increasingly important role in the world. We sometimes talk about the influence of the economy and military on the country and the world. In fact, art also can influence a country and even the world. When a country becomes strong, its culture and art will be more known and familiar to the world.
There is a special feature in the Russian art community: more and more young artists are interested in traditional Chinese art. They found that the continuity and normative results of the Chinese concept of art – the inheritance of Chinese art – have a more profound heritage and historical responsibility. In terms of inheritance and promotion, Russian artists should learn more from Chinese artists. I hope more art exhibitions and art teaching can be jointly held between Russia and China, and more museums and galleries can exhibit works of artists from both countries so that art can reach more people. I will make an effort to promote more cooperation between the artists of the two countries.
At present, many young Chinese artists are studying in Russian institutions such as Repin St. Petersburg State Academy Institute of Painting, Sculpture, and Architecture and Moscow State Academic Art Institute, named after V.I. Surikov. They have mastered traditional techniques and integrated many Chinese elements, which has promoted the development of art in both countries. The study of Chinese calligraphy and landscape painting by young Russian artists also enables them to have more understanding and yearning for Chinese art. Art has long been regarded as a language without words, which requires more artistic communication and the efforts of younger artists. Through their aesthetic ideas, young artists make the world more colorful.
Translated by LI Fenfen