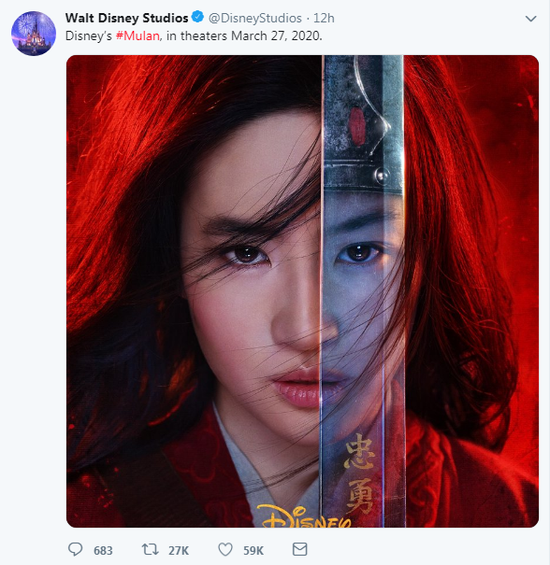 Walt Disney released a poster of the film "Mulan". (Screenshot photo/Twitter)
The live-action film "Mulan," a remake of the animation of the same name in 1998, dropped its first trailer on Sunday. According to Walt Disney's official Twitter account, the film will greet audiences on March 27 next year.
Chinese actress Liu Yifei is in the leading role, and the film features an all-Asian cast. Jet Li and Donnie Yen, two martial arts legends, play the Emperor and Commander Tung respectively, while reputable actress Gong Li stars as the main villain, the witch Xian Lang. The high-anticipated character, Mulan's lover Cheng Honghui, is starred by Yoson An, a Chinese-New Zealander actor.
But the scenes for Jet Li , Donnie Yen and Gong Li have not been shown in the trailer.
The classic and beloved character in the 1998 animation, Mushu, a fast-talking Chinese dragon, also doesn't appear in the trailer, but the much-loved music "Honor to Us All" is in the background when Mulan has a conversation with her parents.
At the same time, a new poster for the film was also released.
The discussion surrounding the film has gone viral on social media. Both on Twitter and Chinese Twitter-like Weibo, netizens questioned the absence of Mushu and expressed a strong will to see it in the final cut of the film. #There is no Mushu dragon in Mulan# also become one of the most searched hashtags on Weibo on Monday.
Weibo users also discussed whether Mulan is historically from Fujian, as the ring-shaped Fujian Tulou is shown to be the heroine's home. Her bright-colored makeup has also been controversial. Moreover, some netizens say the huge contrast made apparent by the ancient costumes and the English dialogue make them long for a Chinese dubbing.
However, in general, people have expressed their anticipation for the live-action remake, and praised Liu's performance after watching her fighting scenes and her unique appearance in the film.
"Mulan" is inspired by an ancient Chinese story. It is about how a girl named Mulan disguised herself as a man to take her ailing father's place in a military conscription, and return home as a national heroine after winning the war. In Chinese culture, Mulan stands for courage, bravery, patriotism, filial piety and the huge potential in women.
Mulan is also the first female Asian character to be listed in the Disney princess collection.