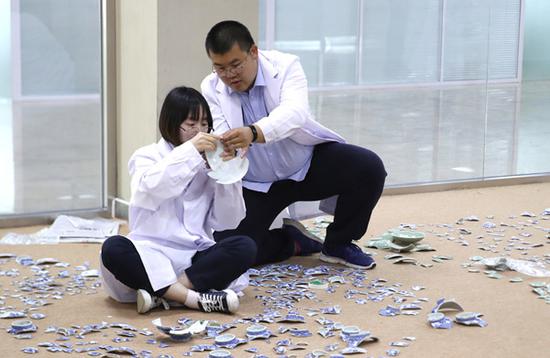 Two staff members from Yuanmingyuan Ruins Park compare broken porcelain pieces on Friday to prepare for restoration. (Photo by ZOU HONG/CHINA DAILY)
The floor of an office in Yuanmingyuan Ruins Park is full of broken porcelain pieces that are all lined up. The scene is not an contemporary art installation-the categorized pieces are just waiting for cultural-heritage restorers to find their long-lost brothers.
First built in 1707, Yuanmingyuan, or the Old Summer Palace, which was the former imperial resort of the Qing Dynasty (1644-1911) in northwestern Beijing, was a cultural splendor.
It is often referred to as "the garden of gardens" for its lush landscapes and numerous temples, palaces and pavilions. It covered a 350-hectare area, about five times that of the Forbidden City.
After being razed to the ground by invading Anglo-French forces in 1860, it was continuously pillaged by bandits for years until, finally, there was nothing left but ruins.
According to Li Xiangyang, deputy director of the administration overseeing the ruins park, about 100,000 broken porcelain pieces have been collected since 1988 when the park was established to better protect the site.
"The broken pieces are a witness to the vicissitudes of a gloomy period in our history," he says. "The year 1860 has seared a deep scar on Yuanmingyuan. With the 70th anniversary of the founding of New China, we can make a contribution to echo a national revitalization."
The park has recently launched a program called "Restoring 1860" to bring new life to the damaged artifacts. Porcelain relics are among the first step of the long-term plan.
Chen Hui from the archaeology department of the ruins park leads a six-person team to handle the huge number of broken pieces.
"It's a pity that even not a single complete porcelain item was unearthed in the park," she says.
Her team chose six ceramic articles-a stool, a snuff bottle, two bowls and two glazed tiles-to be the first restored items because of their representative styles and exquisite patterns.
Chen says that another reason for their selection is that the spots where these articles were excavated were well known. Once they are restored, they will assist relevant historical studies.
The porcelain stool-or xiudun-was broken into 130 pieces, and some parts are still missing.
The restored items will be digitally scanned, and a database of 3D images of the cultural relics will be established.
Auxiliary digital technology was also considered to help distinguish the pieces, but Chen's team chose to trust their own eyes.
"There are many hidden patterns on the pieces. They are as thin as hairs but provide crucial references," she explains. "Cameras can often miss these clues. It's better to rely on our experience."
Restoration of the six items will be finished by the end of May, but it is only the start of a long journey.
"The process is very time-consuming," Chen says. "We cannot set a timeline of how much time we need in the face of so many pieces."
In recent years, 37 stone cultural relics that were confirmed lost from Yuanmingyuan were returned to the site and are now publicly exhibited. The administration has also repatriated 80,000 old bricks with the mark of Yuanmingyuan from all over Beijing.
"Things kept going missing from Yuanmingyuan for a long time after 1860," Li says. "But these items are starting to accumulate again."