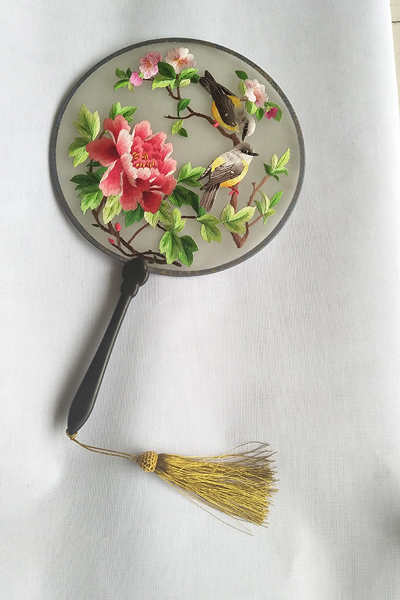 Xihe handmade embroidery silk fans are popular collectable items for their vivid patterns and exquisite stitches. (Photo provided to China Daily)
In 2008, her work was selected for sale at expositions, the first being the Xihe Qiqiao Cultural Festival, and it proved to be highly popular with tourists.
Soon, she began to take orders, and then recruited locals to work for her.
"As my life improves, I want to help others to make better lives for themselves through their embroidery," says Zhang.
In 2015, with the help of her family, she built a house to be used as a work site and named it Qiqiao Workshop.
At first, she recruited a dozen members. After that the number has kept growing as the factory developed into an influential embroidery organization, the Qiqiao Workshop Association.
By last year, it had 179 women as members, 30 of whom were from registered poverty-stricken households. It had reached a turnover of 1 million yuan by last year, and members earned 4,000 yuan on average.
Members also carry on doing their other tasks, such as farming, cooking, taking care of children and household chores, and pick up pins and needles only in their free time.
"Apart from being able to increase their incomes, what is noticeable is that the women finally have a say in their family decisions now," says Zhang.
"Earlier, they used to feel that they needed to ask their husbands even if they just wanted to buy a 10-yuan sweater. But now, they feel free to make their own choices."
In 2016, the China Women's Federation designated Xihe county as the model base for alleviating poverty and began to offer financial support to the likes of Qiqiao Workshop.
One of the beneficiaries was Lyu Xiaohong, the founder of the Baoji Embroidery Culture Company.
The federation encourages poor households to become shareholders by allocating each of them an equity of 5,000 yuan. At the same time, Lyu's company signed an agreement with the households, promising a dividend of not less than 1,000 yuan by the end of each year. Now, 36 poor households in the village, more than half of such households there, have decided to join the company.
With the federation's support, these women have also learned to sell their work online.
Meanwhile, Lyu registered an online store on Taobao in 2016 and says she has since earned 50,000 yuan.
Speaking about the efforts, Luo Shumei, the president of the Women's Federation of Changdao village, Xihe county, says: "It's a good thing to see embroidery production in Xihe county is shifting from being scattered to being more organized.
"But one drawback is that we are yet to find a good market."
Separately, in 2016, the Xihe Culture, Radio and Broadcasting Administration designated Luo, now 32, as a Xihe Qiqiao culture "inheritor".
As for the future prospects, Luo says: "To be honest, our production is at a bit of a standstill now because we don't know when the next order will come in.
"And we are reluctant to produce en masse because of the risk of overstocking. But when an order does come in, we'll work very hard.
"The other thing is that right now our sale channels are rather limited-either through acquaintances or through the annual Qiqiao Culture Festival. It's really not enough to help us to open the market. If we could work as a steady provider or a production base with the support of the government, we'd be able to do more to help alleviate poverty."
Zhang agrees with Luo on the logistics problems of fulfilling large orders in a short time.
"Last year, we got this sudden order from Shanghai, and it was great, requiring us to make 2,000 items within a week. But it took two days for us to receive the necessary fabric, and each product needed to go through 14 procedures. Even with all the help of the members of the association, I had to work flatout for four days around the clock so as to fulfill the order. By the time it was over, I was so exhausted that I almost fainted."
Despite such difficulties, Zhang is optimistic about Xihe county.
"I grew up in a very poor family, and when I was a child, we didn't have much food. However, poverty taught me that if you work steadily, things will improve. We need to put our faith in that."
At the end of last year, there were 42 embroidery associations in Xihe county.
And a government report says that 22,276 residents in 5,216 households in the county had been lifted out of poverty, with its incidence falling from 17.4 percent in 2017 to 11.7 percent last year.