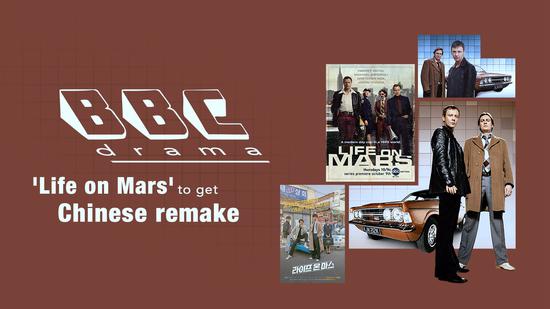 The BBC plans to bring some of their most popular British dramas, such as "Luther" and "Doctor Foster," back to the screen with remakes for Chinese viewers for the first time.
First adaptation is set to be the BAFTA and Emmy-award winning drama "Life on Mars", which was originally set in 1970s Britain. The new version, however, will be set in 1990s Beijing.
According to the BBC, this is because it was "a time of economic growth and cultural prosperity," and "a landmark decade as China became increasingly open to the rest of the world culturally. The Chinese version of Life on Mars will reflect this remarkable era of change, conflict, and challenges."
Aside from the changes across the country, the 1990s also saw the return of Hong Kong from the UK to China.
BBC Studios announced that the local version is being co-produced with Phoenix Entertainment Group – a Chinese media company that produced hit Chinese detective drama "Night and Day" in 2017, which was acquired by Netflix last year.
This also marks BBC Studios' first time partnering with a Beijing-based production house.
David Weiland, EVP Asia from BBC Studios, noted: "I am delighted that our first partnership with Phoenix Entertainment Group is Life on Mars which ranks as one of the best dramas to come out of the UK and is a great example of the breadth and wealth of our scripted formats catalog."
Originality and superb stories earn fans
"Life on Mars," which originally starred John Simm and Philip Glenister, first aired on BBC One in 2006, and became immediately popular both critically and commercially.
It wasn't just a success in the UK. Chinese audiences loved the show too, giving seasons one and two scores of 8.6 and 9.1 respectively on Douban.com, China's popular film rating and review site.
The award-winning drama follows the story of an ordinary detective who finds himself mysteriously transported back to 1973 after a car accident.
This won't be the first international remake of the show as Russian, Spanish, Czech and S. Korean versions have been made.
Wu Bihai, vice president and general manager of Phoenix Entertainment, revealed that it was the program's "originality and superb storytelling" that drew their interest, adding that "BBC Studios offer a great range of dramas that match our ambition to produce captivating, first-class dramas for the fast-growing Chinese SVOD market and their discerning tastes."
According to the joint announcement, pre-production on a 24-episode season of the Mandarin version will start this year.