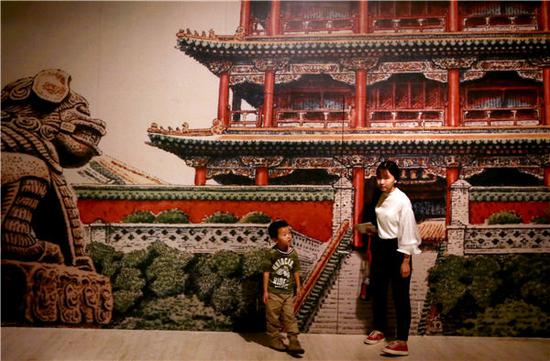 A new exhibition on Manchu-style outfits, utensils and furnishings offers visitors a glimpse into royal life during the Qing Dynasty.
A new exhibition at Beijing's Capital Museum offers visitors a glimpse into royal lifestyle during the Qing Dynasty (1644-1911).
The more than 130 antiques on show are representative of the rich aesthetics at the time. With a combination of practicality and artistry, they demonstrate the development of craftsmanship during the middle Qing period.
One of the key exhibits is a yellow brocade changfu robe, emblazoned with dragons and clouds, that used to belong to Hong Taiji, one of the founders of the dynasty. It is the first time that the robe has been exhibited to the public.
Changfu was a type of Manchu garment, typical of the Qing era. Emperors, empresses and concubines usually dressed in changfu for festivals, celebrations and sacrificial rites.
The emperors also wore changfu to attend jingyan, lectures specifically held for them to study historical classics and improve their cultural literacy.
According to Tian Xinyou, the exhibition's curator, the changfu robe on display was in the traditional costume style of Manchu and since it was used before the dynasty moved to Beijing, its design had not yet been influenced by Han culture. The cuffs of the robe have a horseshoe-shaped design. Usually, the cuffs were turned up so that it was easier for Hong Taiji, the first emperor of the Qing Dynasty, to move and work, as one exhibit suggests. On cold days, however, the cuffs could be turned down to cover the back of his hands to keep warm.
Such a design complied with the compulsion of the Manchu to spend much of their time practicing archery and riding horses.
There are also a number of portraits on display, and that love of riding is evident in one that depicts Emperor Qianlong (1711-1799) on horseback.
There are also a number of household utensils on display, especially those used for dinner, such as a silver hotpot decorated with gold-plated patterns of the Chinese character shou (longevity), as well as a black lacquer plate adorned with gold-outlined patterns of two Chinese landscape paintings.