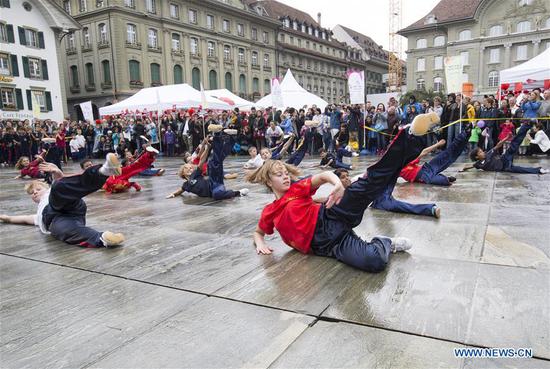 Local teenagers perform Chinese martial arts during the "Meet China" event in Bern, Switzerland, Sept 1, 2018. The cultural event "Meet China" was held here on Saturday to offer local residents an opportunity to experience Chinese culture. (Photo/Xinhua)
The southwestern US state of New Mexico boasts its stuccoed constructions, among which one building stands out.
Located in Albuquerque, the largest city in the state, the Chinese Culture Center is constructed of reinforced concrete, radiating grandeur.
In the main hall stand various instruments of wushu, a synonym in Chinese pronunciation of kung fu or martial arts, and a placard on the wall clearly states the philosophy, rules and etiquette of martial arts.
Billy Jack Davidson, 14, is warming up by performing a set of kung fu motions, a convention before his martial arts class.
"I've found it so entertaining to perform, move around and be active," said Davidson, adding that his favorite artist is Jackie Chan, a Chinese kung fu movie star known across the world.
It has been 10 years since the high school student started to learn wushu at the center.
Davidson is among the 100 or so students now at the center. His bond with martial arts and the training school has roots in his grandmother, who was also a member of the center.
Every day, local kung fu fans like Davidson come to the epicenter of wushu in the US state with the hope of a step further toward "the essence of martial arts", a motto at the training center.
'Magic of culture'
Founded in 1974, the center is one of the oldest martial arts schools in the southwestern United States. It offers ongoing classes on a variety of martial arts including qigong, a system of breathing and exercise designed to benefit both physical and mental health, tai chi as well as Shaolin kung fu.
Its founder, Charles Lin, a Chinese-American, had practiced the arts for more than 50 years.
Master Lin used to be the only kung fu teacher in the school. During his four-decade teaching career, he had traveled to China 10 times and learned from other masters in order to further improve his skills and knowledge.
Lin expressed his hope of introducing the art of Chinese kung fu to local people. "Martial arts is not just sparring, on the contrary, it's more about internal disciplines."
The training center has drawn in over 3,000 kung fu fans since it was started. The majority of them chose to stay for more than 10 years. They also called in their relatives and friends, mainly due to "the magic of Chinese culture".
So far, the school has organized three tours to China, helping about 200 students realize the dream of exchanging views and skills with masters from Shaolin and Wudang, the cradle of Chinese martial arts, during those pilgrimages.