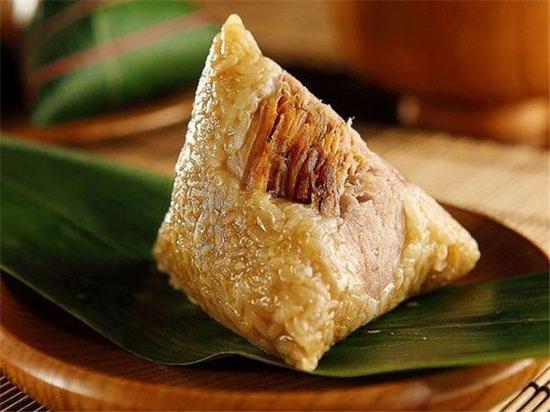 Jiaxing zongzi. (Photo/people.com.cn)
The zongzi is not just a snack with glutinous rice and delicious fillings, but a centerpiece of the Dragon Boat Festival in China.
The festival falls on the 5th day of the fifth lunar month (June 18 this year), which commemorates the legendary ancient Chinese poet Qu Yuan. The zongzi, or rice dumpling, also speaks to the tradition of home cooking in different places and regions.
The enormous variations for this time-honored favorite at home and abroad can certainly surprise you. Here are just several examples to titillate your taste buds.
The most famous – Jiaxing zongzi
Jiaxing zongzi, named after the city Jiaxing in east China's Zhejiang province, is the most sought-after kind of zongzi on the Chinese mainland during the Dragon Boat Festival thanks to the local time-honored brand Wu Fang Zhai, the largest zongzi manufacturer and retailer here. More than six million zongzi are reportedly distributed to its retail stores across the country per day in the most recent peak season.
In a triangular pyramid shape, Jiaxing zongzi is well known for its typical filling of marinated pork which is neither too salty nor too sweet, satisfying the palates of the majority. Sometimes it is also filled with sweet bean paste, lotus seed, longan fruit or peanut.
Fat meat, fried in oil after being boiled for several hours, is usually mixed in with the fillings, which makes the zongzi crispy but not greasy.
It is no exaggeration to say that Jiaxing is the hometown of zongzi as the delicacy almost appears on each family's menu year-around. In addition, Jiaxing owns the first and the only museum of zongzi.