(ECNS) -- When the U.S. White House hinted there is a chance that giant pandas could return to the country, many netizens said it was "good", "fantastic" and "amazingly interesting." They are eager to see pandas back again.
In an interview released by Fox5, when a tourist at the National Zoo in Northwest was asked "Do you want the pandas to return?" she said, "Absolutely. I love the pandas. Everybody loves pandas."
The tourist's response speaks for many Americans.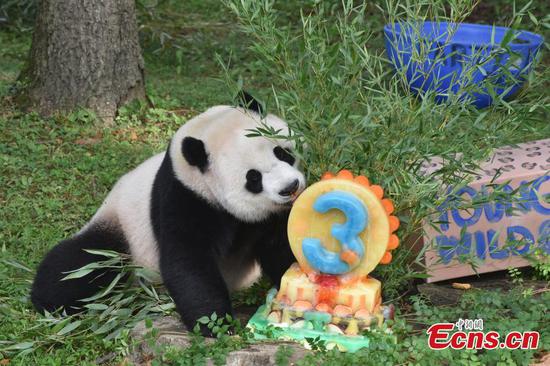 Giant panda Xiao Qi Ji celebrates its 3rd birthday with an ice cake at Smithsonian's National Zoo in Washington, D.C., the United States, Aug. 21, 2023. (Photo: China News Service/Sha Hanting)
"We obviously appreciated having them here," U.S. National Security Council spokesperson of the White House Kirby said on Thursday at a press conference.
Giant pandas Mei Xiang, Tian Tian, and their male cub Xiao Qi Ji (meaning "little miracle" in Chinese), who had been residing in the United States for several years, left Smithsonian's National Zoo in Washington, D.C. and arrived at Chengdu Shuangliu International Airport in Sichuan Province on Nov. 9.
Pandas have long been a symbol of U.S.-China friendship.
The Smithsonian's National Zoo in Washington D.C., also known as the U.S. National Zoo, received its first pair of giant pandas in 1972 as a gift from the Chinese government to mark the groundbreaking progress made in bilateral relations that year.
The arrival of the giant pandas at the zoo, which came several years earlier than the two nations officially established diplomatic ties, "was a very important symbol," said Steven Monfort, director of the Smithsonian's National Zoo and Conservation Biology Institute, in 2019. "In my mind, I can't think of any other animal, any other wildlife species that has had such an important diplomatic position."
"After Mei Xiang's family returns home, the U.S. still hosts four giant pandas who live in Zoo Atlanta and will continue to be the bridge of friendship connecting people in China and the U.S.," Chinese Foreign Ministry spokesperson Wang Wenbin said at a regular press conference on Nov. 9.
Obviously, it's not enough for Americans. They are waiting for the arrival of another "little miracle."