(ECNS) -- Seven Chinese nurses were presented the Florence Nightingale Medal, the highest international award given to a nurse, at the 49th Florence Nightingale Award ceremony in Beijing on Tuesday.
This year, the award was bestowed upon 37 nurses from 22 countries across the globe, and China stood out with the largest number of recipients, bringing the total to 90 since 1983."
China News Service interviewed two recipients of the Florence Nightingale Medal this year, both of whom once engaged in medical assistance missions abroad.
"Compassion knows no borders"
Zhao Xuehong is deputy head of the Nursing Department at the First Affiliated Hospital of Zhejiang University School of Medicine.
One of her most unforgettable experiences was in 2015, when she volunteered to combat the Ebola outbreak with a Chinese medical team in Liberia, West Africa.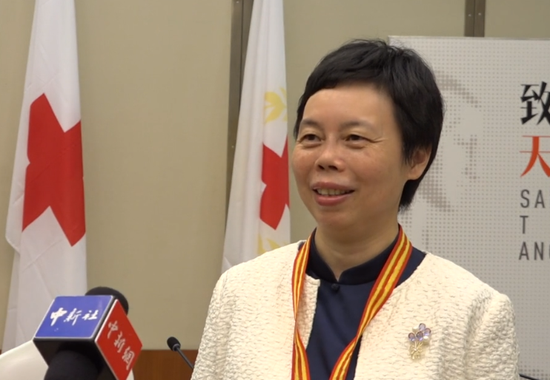 Zhao Xuehong takes interview with China News Service in Beijing, Sep 5, 2023.
One evening, on her ward rounds, Zhao noticed a child who refused to fall asleep.
"His eyes were wide open, and he seemed to be in extreme fear," Zhao recalled, "so I asked him why he couldn't sleep."
The boy replied in somewhat hesitant English, "I'm scared. I dare not sleep because I'm afraid that if I fall asleep, I might die."
"Don't worry, child. I promise to cure your illness. I'm here to take care of you, put your mind at rest," she replied.
After that, she would visit the ward every night, accompanying the child until he fell asleep.
All medical team members wore multiple layers of protective gear, so patients couldn't see their faces.
But when the boy finally recovered and left the Ebola treatment center, Zhao called out his name, and the boy was delighted, saying, "I recognized your voice. You're the Chinese mom."
Since 1963, China has dispatched 30,000 medical members to 76 countries and regions, treating 290 million patients.
"Interactions between people should be sincere, as sincerity transcends borders. Compassion, too, knows no borders," Zhao said.
"Nursing expertise is needed worldwide"
In April 2020, Chinese medical experts in the fight against COVID-19 were dispatched to Ethiopia and Djibouti. Among them was Jiang Yan, director of the Nursing Department at West China Hospital of Sichuan University.
Ethiopia has an average elevation of 3,000 meters, and Djibouti is often referred to as a "boiling pot" due to its scorching temperatures reaching nearly 60 degrees Celsius.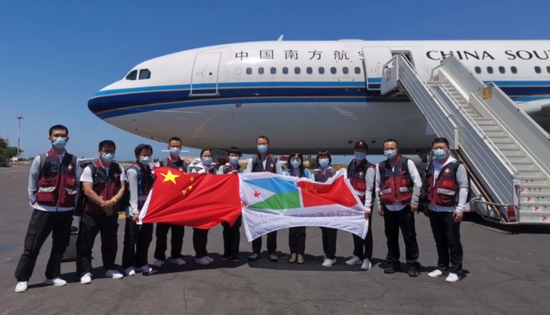 Chinese medical team aid to Djibouti.(Photo provided to China News Service)
However, the most significant challenge was not the hot and humid climate but rather the shortage of medical supplies and medications.
Due to a scarcity of water resources and almost no mask production enterprises, effective measures for controlling the spread of the epidemic such as frequent handwashing and wearing masks were challenging to implement.
Jiang Yan realized that China's experience in combating the pandemic could not be directly replicated in Africa. Instead, it was essential to adapt strategies to suit the specific circumstances."
For instance, they attach faucets to water drums and add pedal-operated mechanisms, creating makeshift handwashing facilities. They also used locally available materials, such as tape, to fashion personal protective equipment.
"We also suggested to the local government to engage local businesses in mask production," Jiang said.
As the Chinese expert group was about to leave Ethiopia, the country's health department specially invited them for nationwide training, hoping that more local healthcare workers can learn these prevention and treatment practices.
Jiang emphasized that the goal of the Chinese medical expert team was not to rigidly impose Chinese medical expertise on local healthcare workers but to assist them in adapting the best methods for protection and hospital infection control while considering local medical conditions.
Over the past 60 years, China's foreign medical teams have not only provided medical services but have also trained over 100,000 healthcare professionals in recipient countries.
When asked if she would participate in international medical assistance work again, Jiang's response was clear: "I would."
"I believe the nursing profession is needed globally and I take pride in this profession," she said.