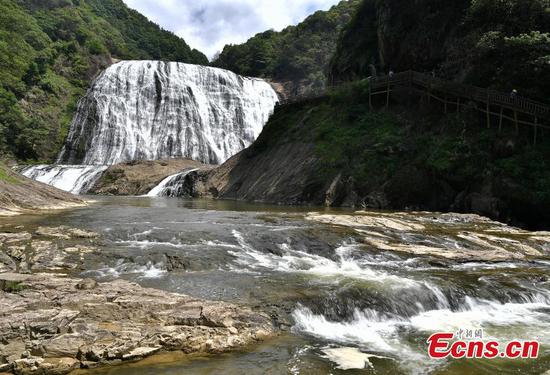 Amazing aerial view of the Jiulongji waterfall with a total drop of more than 300 meters in Zhouning County, east China's Fujian Province, May 25, 2023. (Photo: China News Service/Zhang Bin)
(ECNS) -- June 5 marks World Environment Day, established to remind the world about the state of the Earth and environmental hazards caused by human activities.
In recent years, with the increase in environmental awareness, the protection of the ecological environment is becoming a consensus for more and more people.
However, the global situation of ecological conservation is not optimistic. Currently, the world still faces many environmental problems.Climate change, biodiversity loss, and desertification are bringing new challenges to humanity.
Here is a set of alarming figures.
In the past 50 years, there have been 11,778 disasters caused by climate change, resulting in the deaths of over 2 million people worldwide and economic losses amounting to a staggering $4.3 trillion.
In the past 50 years, global wildlife populations within monitored areas have declined by 69 percent. Among them, freshwater species populations have decreased by 83 percent. In 2022 alone, more than 40 species were declared extinct.
In the past 60 years, global forest coverage has decreased by 81.7 million hectares. This translates to a 60 percent decrease in per capita forest area globally, impacting the lives of 1.6 billion people.
Furthermore, every minute, an additional 11 hectares of land are turning into desert globally. Approximately one-fourth of the world's land is severely affected by desertification, impacting over 900 million people in more than 100 countries.
These statistics reveal the devastating impact of climate change, the alarming decline in global wildlife populations, the shocking rate at which forests are being depleted and land is becoming desertified.
Thankfully, by taking proactive steps, China is creating a more sustainable and resilient future for generations to come.
To address global climate change, China is actively developing clean energy. In 2022, China's total electricity generation through clean energy reached 2.54 trillion kilowatt-hours. As a result, China has established the world's largest clean energy power generation system, with the installed capacity of wind, solar, hydro, and biomass power ranking first globally.
In terms of protection of biodiversity and natural resources, China has designated a land ecological protection "red line" covering an area of 3 million square kilometers, which accounts for over 30 percent of the country's land area. As of now, 90 percent of China's land ecological system types and 74 percent of its nationally protected wildlife and plant species have received effective protection.
In addition, China has completed afforestation on a cumulative area of 960 million mu (63.7 million hectares) over the past decade. Furthermore, China has added and restored over 800,000 hectares of wetlands, resulting in a national forest coverage rate of 24.02 percent. Over the course of ten years, China has contributed one-fourth of the world's increase in forest area and ranks first globally in terms of artificial forest area.
China's efforts and achievements in combating desertification are also considerable. Over the past decade, China has cumulatively completed sand control and desertification control measures on an area of 18.5 million hectares.
The area of desertified land, sandy land, and rocky desertification has decreased by 5 million hectares, 4.33 million hectares, and 5.26 million hectares, respectively. The land treatment rate for controlling sandy land has reached 53 percent.
Thus, China has added more green to the planet, benefiting not only the country but also the world.
China has firmly implemented the United Nations Framework Convention on Climate Change, actively participating in global climate negotiations. It has also established cooperation mechanisms for green and low-carbon development under the Belt and Road Initiative.
These practices have fully demonstrated that China is an important participant, contributor, and leader in global ecological environment protection.