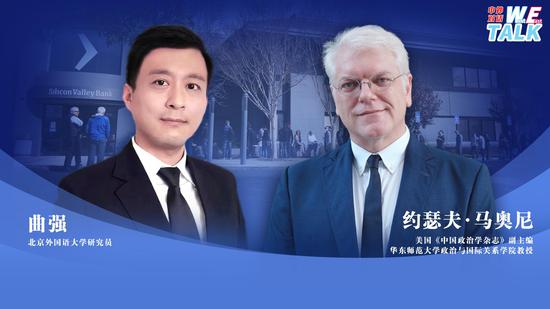 Special: W.E. Talk
(ECNS)-- The collapse of Silicon Valley Bank has triggered chained effect that further shaken people's trust in American banks and pricked up investors' concern of there being "more than one cockroach in the kitchen". Is this a new Lehman moment that stages again for the U.S.? Will there be another round of financial crisis? Will the whole world bear the consequences?
In the latest W.E. Talk, Josef Gregory Mahoney, professor of Politics and International Relations at East China Normal University, and Qu Qiang, fellow researcher at Beijing Foreign Studies University were invited to share their observations.
Josef Mahoney said that SVB failure may indicate deeper problems. Risks are mounting. Fiscal policies, government regulations, and even basic capacities are broken. The U.S. has frequently been the source of Asian financial crisis. The growing social problems of the U.S.worsened by each new economic crisis further eroded national well-being and led to greater political polarization, instability, and poor governance.
The instability of the U.S. financial system can't really affect Chinese financial stability, suggested Qu Qiang. Chinese monetary authority has a lot of leeway to make sure the Chinese financial system is stable. Also, China's macro economy is in a recovery session. With a stable interest rate, China will be safe.
Here are the excerpts of the dialogue:
CNS: Recently, the collapse of Silicon Valley Bank has caught global attention. What factors do you think caused such a sudden collapse? Who is the biggest "victim" of this event?
Josef Mahoney: First, the bank was overexposed to liquidity risk because it invested short-term deposits into long-term bonds. When interest rates rose, bond values and the bank's equity fell. SVB customers were withdrawing deposits beyond what the bank could pay using cash reserves. This scared other customers, prompting a run on the bank, which was the immediate cause of the collapse.
Who were the losers? In the wake of the crisis, the banking industry lost billions given fears that this might indicate broader problems. Government regulators and the Fed have also suffered losses in confidence. U.S. taxpayers will have to pay to clean it up through more deficit spending, paid for by more money created by the Fed. Besides, the Fed will have to rethink its interest rate regime. This also imposes global risks and so much damage to the dollar. And the U.S. economy generally produces harmful spillover effects worldwide.
Qu Qiang: Silicon Valley bank is the 16th largest bank in the USA but there's a frenzied mania that has been spreading to many other good banks. What's wrong with those good students? I think the reason is that the interest hike of the Federal Reserve is going too progressively and doing too fast. Nobody can get prepared in a very short time. Imagine within half a year, you jump your interest rate from basically near zero to five more percent. You are going into an unknown zone of financial security and economic stability.
If this behavior continues by the Fed, I don't know how many other banks are gonna suffer. The funny thing is that the Fed says "no taxpayer is gonna pay for anything of this". We don't know if this is true or not because the Fed can take all the losses. But how will it do that? It has to issue other bonds to pay for these losses, and those bonds eventually need to be paid off by the future American taxpayers or other stakeholders and even the world's people. There's gonna be costs.
CNS: There are rising concerns that the U.S. bank failures may trigger a new round of financial crisis. Do you think there will be another Lehman Moment for the U.S. and will there be a new round of economic crisis?
Josef Mahoney: I think risks are mounting. I don't think a Lehman Moment is pending immediately, but I do believe the Federal Reserve is running out of ways to manage the U.S. economy. Meanwhile, fiscal policies, government regulation, and even basic governance capacities are also broken.
Although this collapse was caused substantially by the banks or interest rate risk management, SVB was not alone in this respect and others are still out there. It's also indicating that the Fed's monetary policies are having both expected and unexpected blowback effects on the U.S. economy. These effects are now intersecting and threatening bigger risks, which the Fed will be even less capable of managing.
Qu Qiang: If the interest rate hike is gonna be more than 6% or even 7%, how many people can still stand with that? SVB is not the largest buyer and holder of the American treasury bonds. There are much more financial giants who bought more treasury bonds. So if it hits through their safe buffer financially, there are gonna be more of the banking system to be dragged into this water.
CNS: U.S. president Joe Biden spoke about the recent bank failures, calling for more government regulation. Do you think that the U.S. government intervention can actually help solve the problem?
Josef Mahoney: Some analysts believe that the failure was caused substantially by poor regulation, a Federal Reserve that again is increasingly unable to manage the banking system and financial sector. Now it's clear that the U.S. government immediately recognized the danger and responded aggressively to this crisis, but this is a stopgap policy-making in the wake of a problem. Now theres no clear legislative path toward financial regulation reforms presently, given the divided Congress, given the lack of bipartisanship on this issue, especially republican hostility to banking reform and regulation.
For one thing, the U.S. presently risks poorly managing this problem; for another, in order for pretending that this situation is already under control, it encounters a greater threat of more danger.
CNS: The impact of the U.S. banking crisis is gradually spreading to the world. Will China be affected?
Quqiang: I don't think this instability of the U.S. financial system can really affect Chinese financial stability. First of all, China does not fully liberalize this capital account, which gives the Chinese government or Chinese monetary authority a lot of leeway to make sure that the Chinese financial system maintains stability. Also, China right now is in a recovery session. China's interest rate can be very stable and sometimes lower to a certain specific area, for example, agriculture, SME and et cetera, which will help China remain stable this time.
CNS: Why has the U.S. always been the source of global financial crises?
Josef Mahoney: America is not always the source of global financial crises but frequently to be the source of the Asian financial crisis.
First, the problem of the petrodollar and its recycling started in the 1970s in tandem with the oil shocks. This intersected with the end of America's postwar boom. This is the start of growing cycles of instability.
Second, in the 1980s, the U.S. moved in the direction of financial deregulation, producing yet, again, a new cycle of crises and boom-bust patterns.
Third, a continuous Cold War plus end-of-history mentality, including aggressive, costly, and unsustainable military interventionism overseas, zero-sum capitalism, has destroyed unions, pensions, and worker protections, all of which hollowed out the middle class and saw the deep decay of U.S. infrastructure. Meanwhile, the U.S. special interest connected to fossil fuels and the automotive industry works to suppress green innovation and development.
The growing social problems of the U.S. that were worsened by each new economic crisis further eroded national well-being and led to greater political polarization, instability, and poor governance. Now all three of these issues are still with us today, but more acute and now intersecting with other global challenges like climate change and the pandemic.