(ECNS) -- There is a splendid mountain located along the Yangtze River in east China's Jiangsu Province named Changshan. A vast river on the one side and lush greenery on the other form a beautiful scene. However, it's hard to imagine that the scenery was once characterized by disorderly barren mountains and serious environmental damage.
Behind the transformation, there are four-year ecological restoration efforts conducted by the local government of Jiangyin City.
In the 1960s and 1970s, the entire mountain lost its green coat due to numerous steep slopes and deep pits caused by rampant mining.
"At that time, the entire mountain was filled with mud and stones, and the mountain was in chaos," said Shen Yunfei, who oversees the mountain restoration project.
In addition to natural landscape damage, Changshan Mountain also faced potential dangers of landslides and geological disasters. Besides, the bare slopes caused visual pollution along the Yangtze River.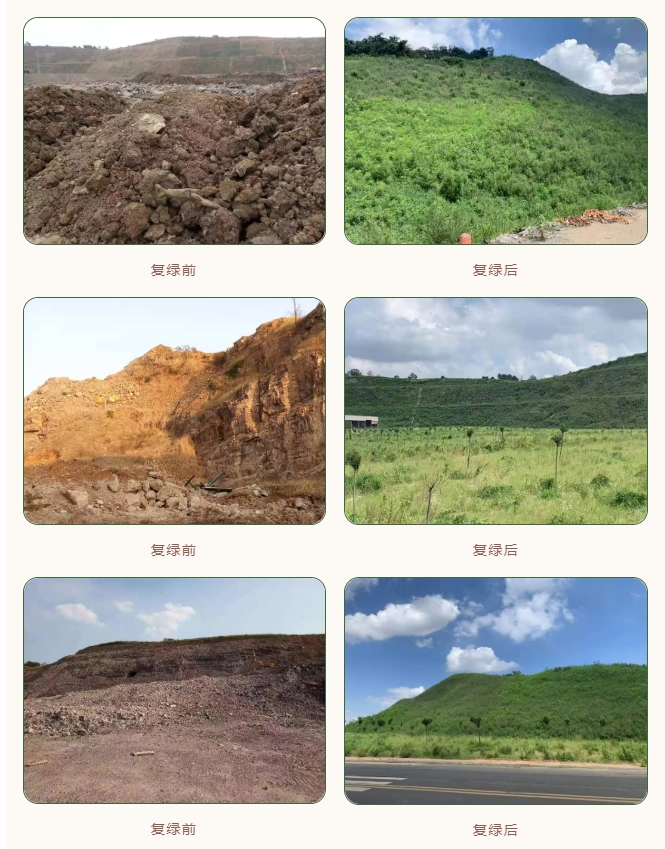 "Before vs After" restoration of the Changshan Mountain (Photo: Jiangyinfabu WeChat official account)
In 2017, Jiangyin High-tech district decided to launch targeted environmental treatment projects to eliminate geological hazards and restore the ecological environment along the Yangtze River.
As the abandoned slopes were extremely steep, the local government planned to cut part of the slope first and then green it.
The 1.8936 million cubic meters of stones after blasting was successfully recycled and sold for a total of 160 million yuan.
Deducting expenses of about 60 million yuan, the project still earned over 100 million yuan, which could be used for later ecological restoration.
At present, more than 2,000 trees have been planted, greening an area of up to 200,000 square meters, and this 700-meter-long hill is now lush and vibrant.
According to Shen, to achieve the best visual effect, they discussed the selection of plants to be sprayed on the slope surface multiple times and included seeds of trees and shrubs like the Luan tree, purple spike acacia, and Schima superba.
"Shrubs have deeper roots, which can prevent soil erosion and keep the mountain green all year round," he said.
To protect the ecological environment of the Yangtze River, settling tanks were added at the construction site to prevent any sand and water from flowing into the river.
As of the end of June 2021, all 20 abandoned sites within 10 kilometers of the Yangtze River in Jiangyin have completed ecological restoration, with a restored area of nearly one million square meters.