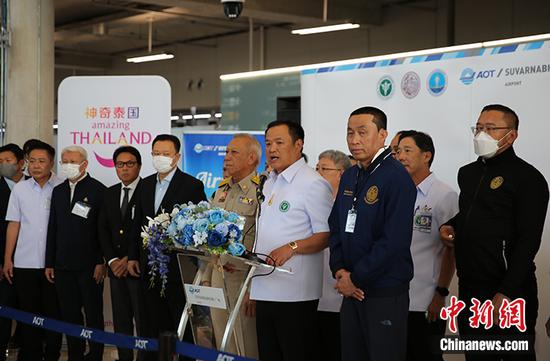 Thai Deputy Prime Minister and Public Health Minister Anutin Charnvirakul and other senior officials attend a welcome ceremony for Chinese tourists at the Suvarnabhumi Airport in Samut Prakan, Thailand, Jan. 9, 2022.
(ECNS) -- Many countries welcomed Chinese tourists as China announced to downgrade management of COVID-19 infection and resume outbound tourism for Chinese citizens orderly.
Embassies and tourism authorities of countries including France, Australia, Canada, Denmark, Norway, Netherlands, Spain, Portugal, Austria, Switzerland,and New Zealand expressed their expectations for Chinese tourists on Chinese social media.
France is among the first countries to open its door to Chinese tourists. Its embassy posted on Sina Weibo last month, saying "Chinese friends, France welcomes you with open arms."
The Austrian Tourist Board attracts Chinese guests with open-air concerts at the Imperial Palace in Innsbruck and the Salzburg Harvest Festival, where they sing and dance with locals and feast on tasty dishes from farmhouses in the Alps.
Southeast Asian countries like Thailand and Cambodia also opened their arms to Chinese tourists.
Cambodian Minister of Tourism Thong Khon expressed his warm welcome for Chinese tourists and investors, saying Cambodia is making preparations for Chinese tourists.
The tourism ministry encourages enterprises involving Chinese tourists' reception to carry out relevant certification procedures as soon as possible and make preparations such as providing accommodation for tourists from China, said the minister.
On Monday, Thai deputy Prime Minister and Public Health Minister Anutin Charnvirakul and other senior officials welcomed Chinese 269 tourists at the Suvarnabhumi Airport in Bangkok with gift bags, and the Thai government stressed they would treat all foreign tourists equally.
A tourism practitioner from Japan told Yicai Global that the Japanese market wants to see Chinese tourists the most, although the Japanese government set up more restrictions for travelers from China since Monday.
"We are still waiting for the return of Chinese tourists. The resumption of group tours from China will significantly boost the recovery of Japanese tourism," said Miho Kuwana from Japan Association of Travel Agents who has 1,100 members.
The Japanese government hopes to attract five trillion yen in tourism consumption every year and increase the number of visitors to Japan to 60 million by 2030, but Japanese media doubts the goal of boosting economic development with tourism without participation of Chinese tourists.
Head of NAA Retailing Group, which operates duty-free shops at Narita International Airport, looked forward to the return of Chinese tourists, saying the company would hire staff who can speak Chinese if there are a large number of tourists from China.