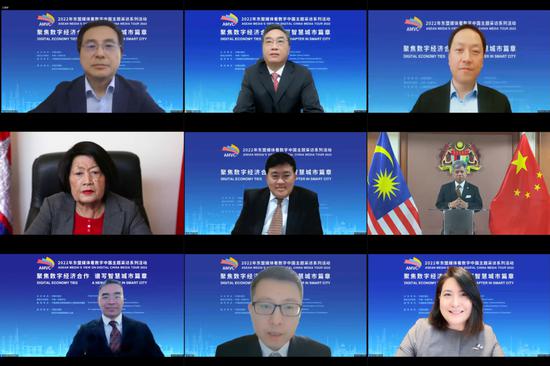 A seminar on ASEAN media's views on digital China is held online on Dec 7, 2022. (Photo/chinadaily.com.cn)
(ECNS) -- Digital economy in China and ASEAN countries has already pressed the accelerator button, which is becoming a key force to promote economic recovery and the healthy development of the global economy, said Zhang Yong, deputy director of the Cyber Communications Bureau of the Cyberspace Administration of China at a seminar on digital economy and smart cities on Wednesday.
He called for promoting further cooperation between China and ASEAN media, enterprises, and think tanks, which injects continuous vitality into the development of China-ASEAN digital economy, and high-quality construction of the Digital Silk Road.
Arthayudh Srisamoot, Thailand's ambassador to China, also highlighted digital economy as a key field of bilateral cooperation.
"In 2021, digital economy accounted for 14.1 percent of Thailand's GDP," he said.
From the installation of 5G stations to smart hospitals and a digital currency trial, these are concrete outcomes from the beneficial cooperation between Thailand and China, he added.
"Promoting the ASEAN-China digital economy partnership will help the two sides overcome current economic difficulties caused by COVID-19, gain greater growth momentum and achieve common development and prosperity," said Shi Zhongjun, secretary-general of the ASEAN-China Centre (ACC) at the seminar.
"The ACC will continue playing its role as a bridge between ASEAN and China to promote policy communication, expand consensus and deepen cooperation in the digital field, and make new contributions to the growth of ASEAN-China relations", Shi said.
ASEAN partners are welcomed to share the new development opportunities with Beijing and build the Digital Silk Road at a higher level, jointly promoting high-quality opening-up and development of China-ASEAN digital economy, added Tong Haiwei, chief engineer of Beijing Municipal Bureau of Economy and Information Technology.
The seminar, titled "Digital Economy Ties, A New Chapter in Smart City", was organized by China Daily and the ASEAN-China Centre. The seminar was held online, where experts, diplomatic envoys, entrepreneurs and media professionals from China and ASEAN countries discussed the development and cooperation prospects of the digital economy and smart cities.