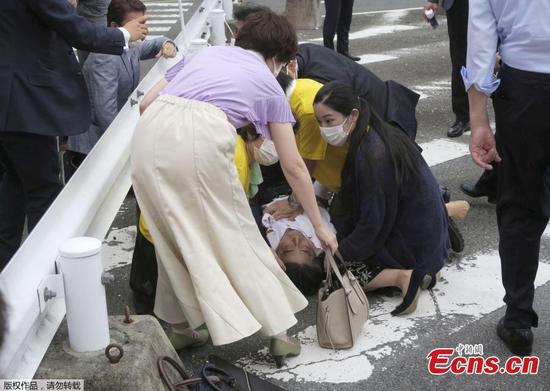 Former Japanese prime minister Shinzo Abe lies on the ground after being shot during an election campaign for the upcoming Upper House election, in Kashihara, Nara, western Japan, July 8, 2022. (Photo/Agencies)
(ECNS) -- Former Japanese Prime Minister Shinzo Abe died at the age of 67 on Friday after being shot from the back while delivering a speech in Nara on Friday, media reported on Friday.
Abe was campaigning for Sunday's upper house election and collapsed after two shots were heard.
Local police have arrested a male suspect in his 40s, in relation to the shooting, according to NHK.
It was reported that the man used a handmade gun and did not try to run away after the shooting, NHK reported.