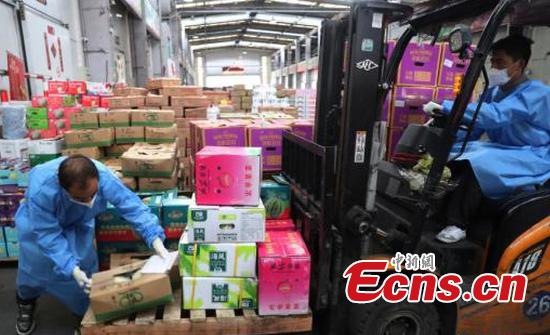 Workers distribute goods at an agricultural products Center in the western suburbs of Shanghai, on May 24, 2022. (Photo/China News Service)
(ECNS) -- Shopping malls, supermarkets and exclusive shops located in areas free of COVID-19 risk are allowed to gradually resume offline business, according to the latest policy released by the Shanghai Municipal Commission of Commerce.
Before May 31, customer flow cannot exceed 50 percent of the maximum total.
After June 1, offline businesses are expected to fully resume but total customer flow must not exceed 75 percent of the maximum total.
Three entrances and exits were opened at Taikoo Li Qiantan, a retail complex in Shanghai, according to a shop assistant. Consumers should scan a health code, take their temperatures, and show a nucleic acid test result taken within 48 hours before entering shops.
To ensure the safety of shopping environments, all escalators, elevators, and door handles will be disinfected every hour.
Hairdressers and vegetable markets in Shanghai are also resuming business.
By Tuesday, a total of 249 supermarkets and shops had resumed operation, six more than Monday.
According to the previous schedule, Shanghai will fully normalize daily life and business activities after June 1.