By LI Jiajia
(ECNS)SHANGHAI -- During the recent Covid surge in Shanghai, Joselle Basa, who likes hiking and yoga, has also turned into a "Liu Genghong girl" (a fan who follows Taiwan star Liu Genghong and his wife Wang Wanfei to exercise together on a live broadcast).
"I never stop. I always want to live life to the full and stay positive," she said.
Basa, from Manila, the Philippines, is currently the Guest Recognition Manager for a five-star hotel under the Marriott International Group. She has also given herself a catchy Chinese name, "Peng Shasha".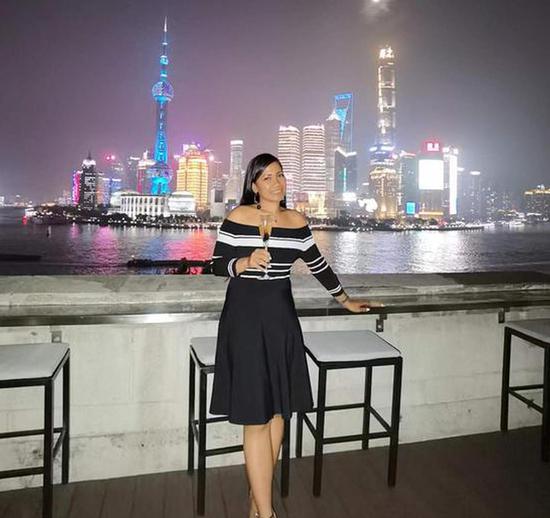 Joselle Basa. (Provided by the interviewee)
Basa lives in a hotel apartment on Macao Road, Putuo District, Shanghai. When Shanghai was put under "citywide static management" due to Covid, she created and operated a community WeChat group to unite neighbours who did not know each other before. "During the first week when the building was closed, my partner and I were thinking that we should get to know our neighbours now, so that we can help each other in case of need. With the help of the lobby security, I formed a WeChat group of 29 residents of the local community," she said.
At normal times, Basa would be busy with work, so she hasn't had a chance to get to know her neighbours really, even though she has been living in the neighbourhood for two years. Now under the restrictions to stay at home, the residents can get to know each other again. "I think it's a very rewarding experience to be able to get through this difficult time with my neighbours."
In the early days of the lockdown, the allocation of supplies was tight, and it was relatively difficult to obtain sufficient daily necessities from the outside. One day, Basa wanted to bake some bread, but when she opened the cupboard, she was dumbfounded. There was no flour left. Since she couldn't shop online then, Basa sent a message to the WeChat group for help, asking if anyone had got some flour to spare her. Pretty soon, she found gift flour at her door from neighbours. And after the fragrant toast was out of the oven, the first thing Bada did was to share the bread. "Of course, it was delivered to the door in a non-contact way," she explained.
Basa is used to drinking bottled water, but the building she shares with the community is seven-story high without an elevator. Whenever a group-buy bottled water arrives, it means that someone has to carry the water all the way up to every household, quite a big physical challenge. "What moved me the most was that when I talked about this in the WeChat group that day, the men in the building volunteered to help, and they formed a small team to undertake the water delivery from door to door."
Group buy is naturally the most discussed topic in WeChat groups,Basa says, "We not only share actual items, but also our stories and joys. All in all, we can always help each other. As a result, we always feel like there is an invisible bond that glues us firmly, and we feel each other's love and warmth together, even though we can't meet together face to face."
Having lived in China for 11 years (in Macao and Qingdao before moving to Shanghai), Basa considers herself almost a "China hand." She has stayed in Shanghai for 6 years, the longest among Chinese cities. "I consider Shanghai my second hometown."
Because she has always been a positive and optimistic person, Basa has never felt anxious because of the sudden lockdown in Shanghai, but her family members who are thousands of miles away often send greetings and show their concerns. "I always try my best to tell them a lot about what I just bought again, what exercise I did, what job I finished, etc. so that they know I can take good care of myself and feel reassured."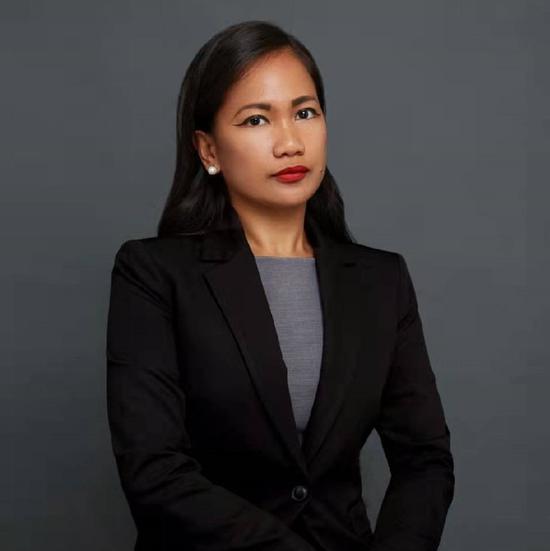 Joselle Basa is the Guest Recognition Manager. (Provided by the interviewee)
It was also during the restriction period that Basa came to watch Taiwanese star Liu Genghong live with his family on social media. "I think this is a very fashionable way. He uses a good way to spread positive energy. It helps us take good care of oneself and keep healthy while staying at home." So whenever she has time, she will also follow to dance a few steps. "Why not?"
In previous years, Basa used to go hiking in towns and villages around Shanghai. Although the epidemic is preventing her from traveling, a travel list has already been planned in her mind. "The most I want to go is Fujian Tulou, followed by Pu'er and Xishuangbanna in Yunnan, and of course my favorite hiking place is in Zhejiang Province." Basa says she will not quit Shanghai though, "All this will pass."