By GAO Zhimiao
(ECNS) SHANGHAI -- Disinfecting buildings, picking up deliveries and bringing them to everyone, collecting garbage from residential buildings... This is some of the daily work, or to be more exact, nightly work, for Serbian expat Nikola Jankovic, a teacher at Thomas School in Putuo District, Shanghai.
Jankovic applied for volunteer work on April 1, but at that time, there was no fitting roles that would match his skills. "At first the neighborhood committee did not officially recruit me, because I hadn't studied Chinese, and could not communicate with residents in the neighborhood. But later, I was able to take some work that does not require Chinese communication, like delivering supplies and moving garbage bags, and I felt so happy," Jankovic said.
Why is the Serbian expat so enthusiastic about volunteering for the neighborhood? "The reason is quite simple," explained Jankovic. "China has been my home for several years already and made me feel safe. Now China is suffering and I feel that it is my duty to give something back by helping her during this hard time."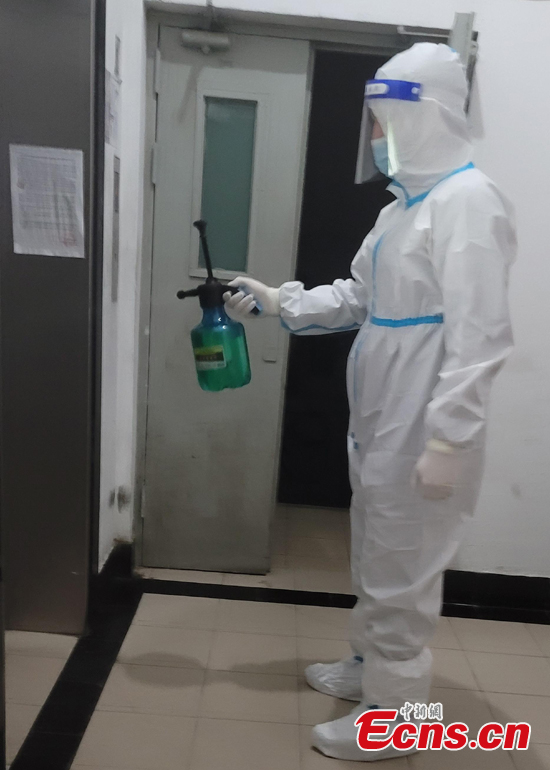 Nikola Jankovic
serves as a volunteer in his community in Shanghai. (Provided by the interviewee)
Although tightly covered by a face mask and protective suit, Jankovic still looks "full of energy" when he volunteers for others, and he himself enjoys the process, "My neighbors always smile when they see me. Community workers and other volunteers are also quite curious why a foreigner is so enthusiastic about volunteering. For me, every volunteering job is a rewarding experience. It's great to feel able to help people who are in trouble."
Having worked and lived in Shanghai for nearly four years, Jankovic is a teacher of STEAM (Science, Technology, Engineering Arts, and Math). As class has gone online due to the impacts of COVID-19, he has designed STEAM experiments that can be done at home with readily available materials. After Shanghai introduced a city-wide mentorship in schools, Jankovic has been an active participant in the initiative, spending a lot of his time off-class to contact students, and learn about their schoolwork, and difficulties at home and help them relieve stress associated with lengthy stays at home.
For Jankovic, Shanghai offers the job he is passionate about, and has the lovely students he likes to be with. Stressing that he hasn't done much as a volunteer, Jankovic jokes that the work, in turn, has benefited him in some unexpected way, "Another benefit is that it is extremely warm in those protective suits so I am sweating a lot and losing some weight."
Despite the time of difficulty, Jankovic has experienced friendliness in the neighborhood. "At times, there were shortages of supplies and everyone in our community started sharing with each other, helping each other and organizing group purchases as fast as possible. Maybe it doesn't sound like it, but it was one of the most beautiful presentations of unity I have witnessed."
"All in all, this time is hard, but we are trying our best to be stronger together and walk tall. Just a while longer and we will return to our normal lives and set new goals," said Jankovic.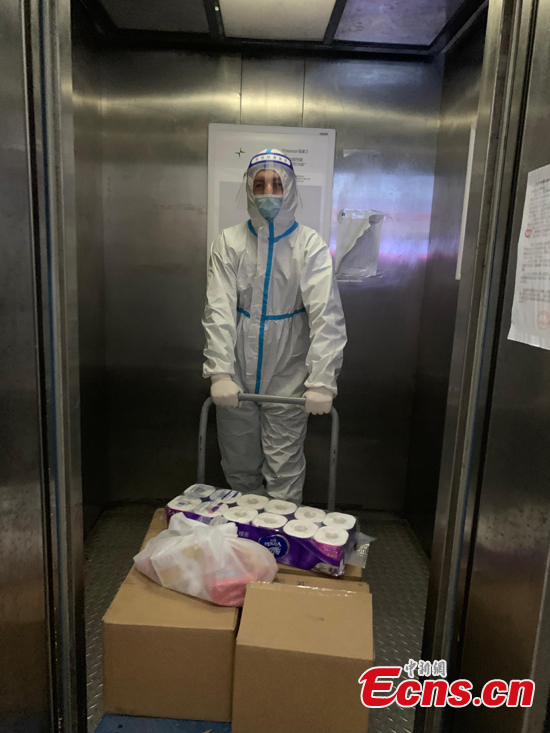 Nikola Jankovic serves as a volunteer in his community in Shanghai. (Provided by the interviewee)