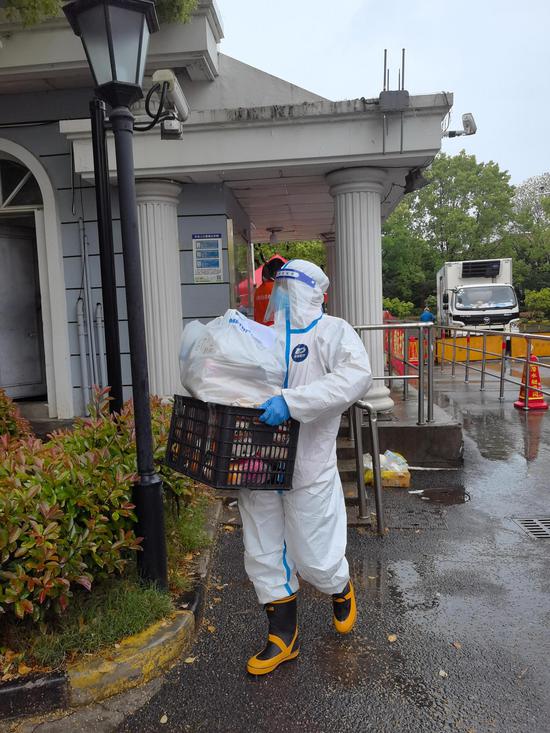 Matt Doyon serves as a volunteer in his compound. (Provided by the interviewee)
Special: Battle Against Novel Coronavirus
By GAO Zhimiao
(ECNS) SHANGHAI -- Every morning, Matt Doyon who lives in Huacao Town, Minhang District, wakes up on time at 6:30 a.m. then feeds his dog, washes up, and has breakfast. Later, he takes the antigen self-test, photographing the result and sending it to the chat group of his volunteer delivery team on WeChat, China's vastly popular instant messaging app.
Following a series of preparations, at 7:25 a.m. Doyon puts on his volunteer vest and heads to the front gate of his residential estate to claim a protective suit, beginning his work as a delivery volunteer for the neighborhood.
This has become Doyon's daily routine since April 12, when the English teacher from Canada joined the neighborhood's voluntary delivery team, with a strong eagerness to do something for the neighborhood in his time off from online lecturing.
"Room 502, Building 66, your delivery is here..." Every day, Doyon travels back and forth across the residential estate on a scooter, fully loaded with rice, noodles, fruit, eggs, and other daily necessities. The word "delivery" has become one of the most frequently uttered Chinese words for Doyon, who only speaks "a little bit" of the language. Delivering for the whole residential estate was, at first, literally a tall "order" for him. Butnow he has grown used to the demanding work, able to make 100 deliveries in a morning without rest.
"There are a lot of people in our compound——roughly 3,000, and everyone needs food and supplies. Working as a delivery volunteer is the best way to help distribute supplies," Doyon described his job, saying "Delivery volunteers play the in-between role: the deliveryman delivers supplies to the neighborhood, and we sterilize them before passing them on to residents, so it will be contact-free for the two sides, and there will be no cross-infections."
In fact, Doyon has long been playing an active part in voluntary services during his 11-year stay in China: He takes part in voluntary work whenever he can, be it taking care of the elderly at a senior care home or visiting children with disabilities in an orphanage. His current voluntary work is just another effort to become "part of the community." "As an expat who lives in Shanghai, I also have a responsibility and want to show the community that we can be part of it, not just as a resident."
This is not an easy task for an expat like him, given the language barrier and cultural differences. But Doyon is keen to get further involved, "The neighborhood could get us more involved in the services in the future, so we can volunteer and help others."
The experience as a delivery volunteer has given Doyon a deeper understanding of China, and a deeper sense of belonging to his delivery volunteer team, as well as the community."My strongest feeling is that the team I work with is great. Not only me, all of us work together, and every team member does everything they can to contribute to the neighborhood."
"Although my Chinese is not good, the neighbors are always very friendly. They would say 'Thank you' to me," recalled Doyon. Yet the support is not only psychological, but also material. "We are lucky that the neighborhood has enough money to provide us with protective suits. Residents have made donations, so that we volunteers can wear protective suits that well protect us," said Doyon.
"We all felt scared in the early days of the outbreak. But fear in itself is scarier than the virus," he noted. "People are willing to work with the government, and willing to work together to solve problems and fight COVID-19."