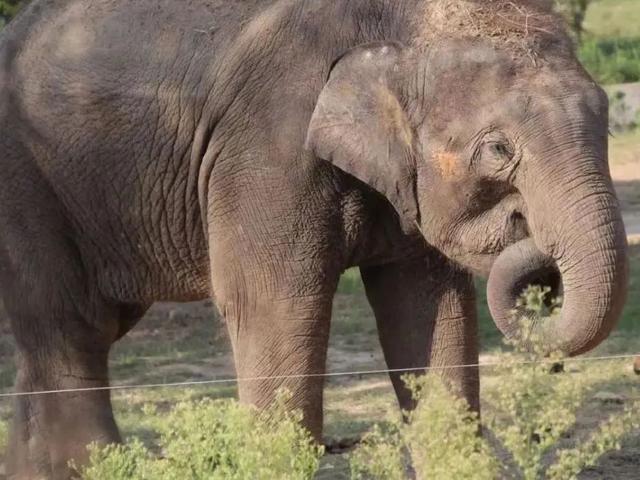 Screenshot from China Newsweek
(ECNS) – The Asian elephant Molly, suspected of being abused and forced to perform for several years, has journeyed back to its birthplace Kunming Zoo in southwest China's Yunnan Province on Monday, said Henan Provincial Forestry Bureau.
Molly was born in Kunming Zoo in March 2016 and became popular among visitors at the time.
In 2018, two-year-old Molly was sent to Swan Lake Ecological Park in Qinyang, central China's Henan Province, for breeding purposes.
The elephant was later found performing in Jiaozuo Forest Zoo (co-run by Swan Lake Ecological Park), Zhoukou Safari Park, and other venues in 2021.
According to videos shot by animal lovers, Molly had chains tied to her feet and was forced to perform acrobatics like standing on one foot, playing the harmonica, and blowing balloons.
In September 2021, a newspaper in Yunnan got in touch with Kunming Zoo, which then confirmed the elephant in the videos to be Molly.
Jiaozuo Forest Zoo argued that it is necessary to put on a chain for an elephant, especially when it is in heat. It added that Molly was in good health and not mistreated.
However, many people and social organizations keep voicing their concerns on social media about Molly.
In April 2022, Chinese actress Chen Qiao'en spoke up for Molly, calling for protection on Twitter-like Sina Weibo.
Animal shows in essence spread the wrong values, and being skillful, smart, obedient and able to imitate human acts violate their true nature, said experts, adding that humans should appreciate natural behavior and avoid putting their own pleasure first.
With Molly as an example, netizens have called for greater awareness about animal welfare.