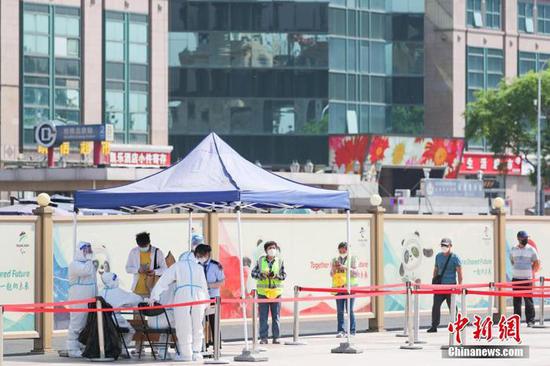 People queue for nucleic acid testing in Dongcheng Distrcit in Beijng, May 5, 2022. (Photo/China News Service)
Special: Battle Against Novel Coronavirus
(ECNS) -- Beijing will improve the layout of nucleic acid testing (NAT) points to meet citizens' demands and promote the normalization of COVID-19 screening, said a local official on Friday.
The COVID-19 pandemic situation in Beijing remains grave and the city is determined to take strict and swift action to curb the spread of the pandemic in order to achieve the goal of social zero Covid as soon as possible, said Tian Wei, an official for the Publicity Department of the CPC Beijing Municipal Committee.
Beijing continues its pandemic prevention and control measures adopted during the May Day holiday at present and keeps checking the NAT results sampled within 48 hours of those returning to work, Tian added.
Restaurants are only allowed to offer takeout, primary and secondary students to remain home, while public cultural venues are still closed for now, said Tian.
Besides, the city helps strengthen the personal protection of medical workers and public health staff to lower the infection risks in hospitals, as well as the pandemic prevention among materials supply group in the city such as delivery men to ensure smooth logistics, and it is ready to respond to pandemic-and-livelihood-related requests, said Tian.
A total of 610 locally transmitted COVID-19 cases have been reported in Beijing from April 22 to May 6.
Beijing will continue to practice rigorous measures, give full play to communities in the Covid fight to makes sure the implementation of prevent and control measures, and conduct antigen self-testing among people, industries and areas at higher risk of infection, he added.