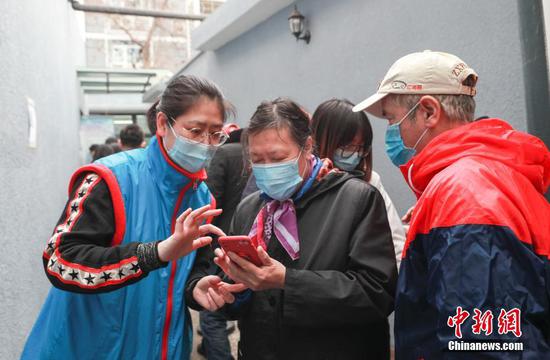 A volunteer helps an old woman to make an appoinment of COVID-19 vaccination in Beijing, March 18, 2021. (Photo/China News Service)
Special: Battle Against Novel Coronavirus
(ECNS) -- A total of 162.324 million Chinese over the age of 60 have gotten COVID-19 vaccine booster shots, said Wu Liang, deputy director of the Disease Control Bureau, National Health Commission of China, at a press conference in Beijing on Friday.
As of Thursday, more than 3.34 billion COVID-19 vaccine doses had been administered on the Chinese mainland, covering over 1.28 billion people, among which about 1.25 billion have been fully vaccinated, accounting for 91.22 and 88.74 percent of the whole population of China respectively, said Wu.
More than 756 million Chinese have received booster shots for COVID-19, Wu added.
Over 227 million elderly people have been vaccinated, among which more than 215 million have gotten fully vaccinated, accounting for 86.23 and 81.67 percent of the Chinese elder population, said Wu.
Experience shows that vaccination is quite effective at lowering serious cases and deaths in this COVID-19 fight, Wu added.