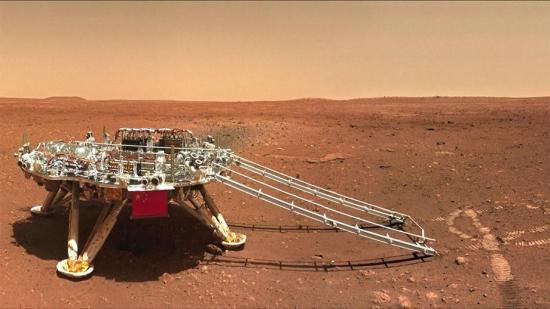 China's Mars rover Zhurong. (Photo/VCG)
(ECNS) -- China's first Mars rover Zhurong is expected to enter sleep mode in mid to late July this year, according to news released Thursday by the Lunar Exploration and Space Program Center of the China National Space Administration.
The highest temperature at noon where Zhurong is located has dropped to minus 20 degrees Celsius and the night temperature to minus 100 degrees Celsius.
Sleep mode will help Zhurong survive the Martian winter, dust storms, and other extreme weather.
The Zhurong rover has worked for 347 Martian days, traveling 1,921 meters.
The Tianwen-1 Mars orbiter has been operating for 651 days at a distance of 240 million kilometers from Earth.
The average duration of each season on Mars is about twice as long as on Earth.
China's Tianwen-1 mission, consisting of an orbiter, a lander and a rover, was launched on July 23, 2020. The rover Zhurong drove down from its landing platform to the Martian surface on May 22, 2021.