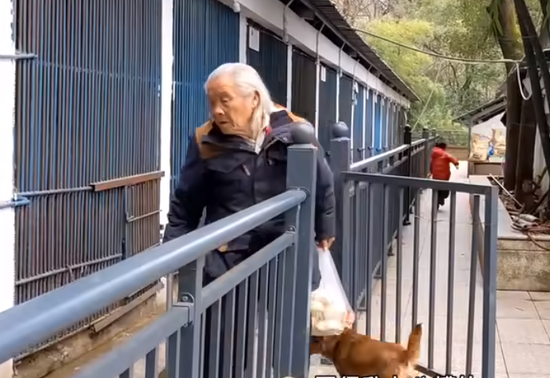 Grandpa Luo is feeding animals at Fenghuangshan Forest Park Zoo in Enshi Tujia and Miao Autonomous Prefecture, Central China's Hubei Province. (Photo/Video screenshot)
(ECNS)-- Luo Yingjiu, 81, is the only employee of Fenghuangshan Forest Park Zoo in Enshi Tujia and Miao Autonomous Prefecture, Central China's Hubei Province.
With its 10-yuan tickets and few visitors, the zoo guarded by Luo was known as the "loneliest zoo" in media reports.
But things changed when Grandpa Luo's granddaughter, a senior student, decided to support her grandfather in her own way.
In January this year, Grandpa Luo's granddaughter Luo Wei created the account "Grandpa Luo's Zoo" on a video website, recording the daily life of her grandfather and the animals, which touched many followers.
The "online zoo" has amassed over 300,000 followers interested in the daily life of the zoo guard. Grandpa Luo goes to the market by bicycle for vegetables, feeds the animals and cleans their cages every day.
"My grandpa's original aspiration was to save these animals," said the granddaughter, when interviewed by China Youth Daily. She hopes to improve the zoo's environment and the lives of the animals through the Internet.
When he worked at a local cinema 33 years ago, Grandpa Luo rescued wild animals sold by street vendors. That marked the beginning of his zoo.
Some of the animals living in the zoo were injured before, some were to be killed for food but rescued by Grandpa Luo. As the animals lost the ability to live in the wild, Grandpa Luo kept them safe.
Years passed and the animals in the zoo grew old, but Grandpa Luo took good care of them.
"Grandpa wants to protect and feed these animals forever," his granddaughter said.
At present, the zoo is supported by Grandpa Luo's pension, meager ticket sales, and borrowed money. Luo Wei's father also subsidizes the zoo's expenses through his daily income.
Some zoos make money by selling fodder to customers to feed animals. However, Grandpa Luo rejected this method firmly as he believed this would disrupt the animals' diet, while feeding might threaten tourist safety.
"There is a tiger that was raised for performance by its owner. It was very skinny when rescued by Grandpa Luo. But he fed the tiger well, and its condition gradually improved, " said the granddaughter.
"This is not just a zoo, but also a place where animals can live better," she said.
"All I want to do is put the animals first, " Grandpa Luo said solemnly.