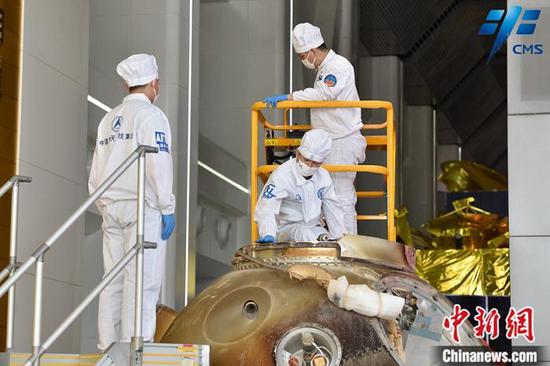 China's Shenzhou-13 return capsule opened in Beijing on Tuesday. (Photo/ China News Service)
(ECNS) -- The return capsule of the Shenzhou-13 manned spaceship was opened on Tuesday, according to the China Manned Space Agency (CMSA).
Items including crop seeds, 8K high-definition memory cards storing images and videos taken by the astronauts in orbit, commemorative stamps, and paintings by Hong Kong teenagers were recovered from the capsule.
China's manned space projects have attached great significance to contributing to the national economy and people's livelihoods since its establishment, the CMSA said.
Since the Shenzhou-1 mission, China's manned space projects have carried public welfare projects with scientific research value or social benefits in each mission, which played an active role in promoting scientific research, agricultural development, industrial upgrading and targeted poverty alleviation.
The Shenzhou-13 spaceship was launched from the Jiuquan Satellite Launch Center in Northwest China on October 16, 2021. Its three crew members returned to Earth on April 26, 2022 after a six-month mission.