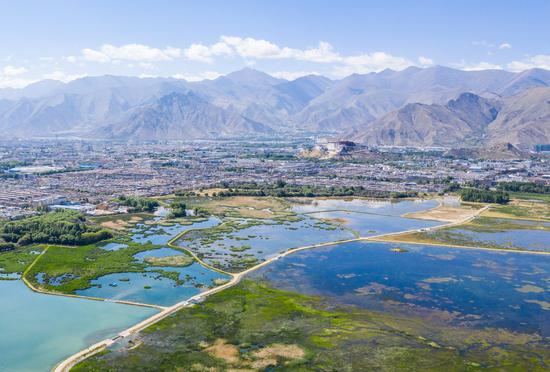 Aerial photo taken on June 5, 2019 shows a view of Lhalu Wetland National Nature Reserve in Lhasa, southwest China's Tibet Autonomous Region.(Photo/Xinhua)
(ECNS) -- Friday marks Earth Day 2022. China's Tibet Autonomous Region embraces one of the best ecological environment in the world thanks to rising awareness of the harmonious coexistence between humans and nature.
A total of 81.4 billion RMB ($12.6 billion) had been invested in Tibet on biodiversity and ecological protection by the end of 2020, according to a local official.
"Nearly 10,000 Tibetan antelopes gathered in Xianqian Town, Gerze County of Ali Prefecture in late March. Now these wild animals have moved north for food," Rigzin Norbu, head of Gerze Forestry and Grassland Bureau, told China News Service.
Such a large-scale gathering of Tibetan antelopes is rare in recent years, which manifests the expansion of Tibetan antelope population and their activity range, said the official.
Gerze County has continuously enhanced the protection of wild animals. It has set up 23 management stations and recruited 217 professional guards to stop poaching, he added.
The improved ecological environment and habitat contribute to the increasing number of wild animals in Tibet.
"Thousands of black-necked cranes have flocked to the Hutoushan Reservoir near our village to spend the winter this year, the largest number seen in recent years, said a ranger of the Black-necked Crane Nature Reserve in Linzhou County, Lhasa on Wednesday. Hailed as "sacred birds" by the Tibetans, the black-necked crane is a first-class national protected animal in China.
Rangers here are responsible for patrolling, feeding and rescuing animals. From last winter to this year,27,000 catties of wheat are distributed around the nature reserve to ensure that black-necked cranes survive the winter, according to the ranger.
Tibet has formed an effective protection-and-management system in natural areas after more than 30 years of construction, the region's ecology and environment department said in a statement. At the end of 2020, there were 81 protected natural areas in the region, including 47 nature reserves, nine national forest parks, and 22 national wetland parks, the department said.
So far, Tibet has recorded more than 9,600 kinds of wild plants, among which 1,075 are endemic to Tibet, and 383 are listed as rare and endangered species at different levels. There are 1,072 species of wild vertebrates, and the country has put 219 kinds of wild animals under national-level protection. With the increasing protection efforts, the region is seeing more wildlife species.