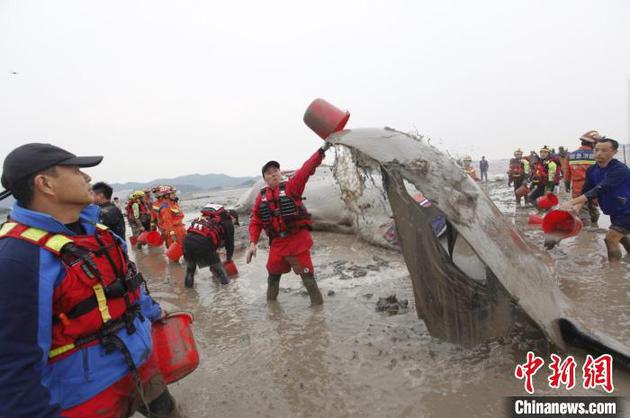 Rescuers help a sperm whale stranded on a beach of Xiangshan, Ningbo, east China's Zhejiang Province, April 19, 2022. (Photo courtesy: the rescue team)
(ECNS) -- A stranded sperm whale was successfully dragged into waters 28 meters in depth and swam away after a 20-hour relay rescue in Xiangshan County, east China's Zhejiang Province on Wednesday.
The whale, measuring 20 meters long, was spotted on a beach near Shipu in Xiangshan County on Tuesday morning. Rescuers rushed to the scene, kept splashing water onto the whale to keep its skin moist, and waited for the rising tide to tug it back to deep waters.
"With the guidance of on-site experts, we kept pouring water on the whale, applied medicine to the injured part and assisted fishery officials to tie ropes to it so the whale could be pulled back to sea when the tide rose," said a rescuer.
The rising tide eventually covered the whale at around 10 p.m. on Tuesday.
Xiangshan officials then organized seven ships to drag the whale deeper. At dawn on Wednesday, rescuers successfully released the whale back to sea.
"This is the first time I have seen such a large sperm whale stranded. A 20-meter-long sperm whale is already in old age," said Zhao Shenglong, a professor at Zhejiang Ocean University,
Sperm whale is a first-class protected animal in China. Stranded sperm whales have been recorded rescued along the coast of Fujian, and this is the first rescue in Zhejiang.