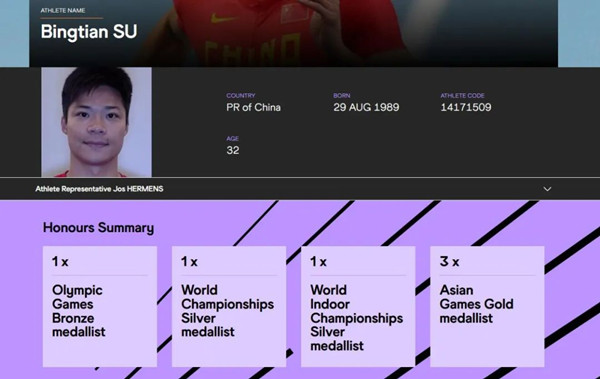 Screenshot from the World Athletics website
(ECNS) -- With the title "Olympic Games Bronze medalist" added to introduce Chinese athletes Su Bingtian, Xie Zhenye, Tang Xingqiang and Wu Zhiqiang on the official website of World Athletics (WA), the Chinese relay team has been certified the bronze medal winner of the men's 4X100 meter relay event during the Tokyo Olympic Games.
Team Great Britain were stripped of their Tokyo 2020 silver medals after CJ Ujah tested positive for two banned substances, according to the report released by the Court of Arbitration for Sport (CAS) on Feb. 18, 2022.
Team Italy ranked first in the men's 4X100 meter relay final at Tokyo 2020 held on Aug. 6, 2021, followed by Team Britain and Canada. The Chinese team finished the competition in 37.79 seconds, ranking fourth.
However, the A-sample of CJ Ujah was tested positive by the International Testing Agency (ITA) a few days after the event.And in September 2021, the ITA announced that the B-sample analysis of CJ Ujah confirmed the initial A-sample result.
The ITA then referred the case to the Court of Arbitration for Sport's Anti-Doping Division (ADD), which would determine if Ujah had committed an anti-doping rule violation (ADRV) and whether the silver medal of the British team would be cancelled.
Five months later, the CAS released its decision, which stated Ujah had committed an ADRV and the British men's relay team would be disqualified.
The information about Team China's men's 4X100 meter relay team on the official website of International Olympic Committee (IOC) has yet to be updated.