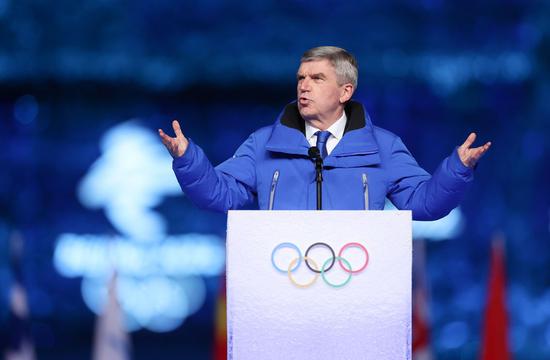 International Olympic Committee president Thomas Bach addresses the closing ceremony of the Beijing 2022 Olympic Winter Games at the National Stadium in Beijing on Feb. 20, 2022. (Photo/Xinhua)
Special: 2022 Winter Olympics
(ECNS) -- International Olympic Committee (IOC) President Thomas Bach lauded the Beijing Winter Olympics as "truly exceptional" in his speech at the closing ceremony held at the National Stadium on Sunday evening.
"The Olympic spirit could only shine so brightly, because the Chinese people set the stage in such an excellent way – and in a safe way," said Bach.
He thought highly of the winter event, saying "this unforgettable experience was only possible because of our gracious hosts, the Chinese people."
"With over 300 million people now engaged in winter sports, with the great success of the Chinese athletes, the positive legacy of these Olympic Winter Games is ensured," he said.
"With the truly exceptional Olympic Winter Games Beijing 2022 we welcome China as a winter sport country," the IOC chief added.
Bach said many times of "Thank you" in his speech before declaring the 24th Olympic Winter Games Beijing 2022 closed.
Beijing is the first city ever to have hosted both Summer and Winter Olympics.
The Beijing Winter Olympic Games is the first to achieve "carbon neutrality", with 100 percent renewable energy power supply used across all venues in three competition zones.
Photovoltaic and wind power generation, local donations of forestry carbon sinks and other methods showed the world China's strong determination to adhere to green development and building a beautiful country.
A total of 212 technologies, ranging from venues to sports equipment, traffic, COVID-19 prevention and control, etc. were applied at the Games, of which 33 were used for the first time.
It has accommodated more than 15,000 athletes and key staff, proving the effectiveness of the closed-loop policy.