Special: Xinjiang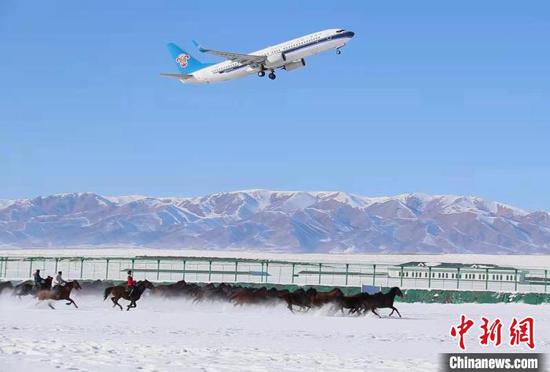 People in Zhaosu County, Xinjiang Uyghur Autonomous Region, ride horses to welcome the fisrt flight to Zhaosu Tianma Airport. (Photo provided to China News Service by Ili Prefecture authorities )
(ECNS) -- A flight from Urumqi to Zhaosu in Xinjiang landed at the Zhaosu Tianma Airport on Friday, marking the official operation of the first plateau airport in the Xinjiang Uyghur Autonomous Region.
The airport is located at over 1,700 meters above sea level in Zhaosu County, Kazak Autonomous Prefecture of Ili.
As the 23rd civil airport in Xinjiang, it covers an area of about 170 hectares. Its construction began in September 2019 and its runway finished in June 2020.
The passenger throughput of the domestic civil regional airport is designed to reach 200,000, while cargo and mail throughput to 600 tons by 2025, according to the airport.
It is expected to promote development of the local tourism industry and improve the investment environment, said a local official.
With Kazakhstan as its neighbor, Zhaosu is known as the hometown of the best horse breeds in China. The county also has unique tourism resources that attract many tourists every year.