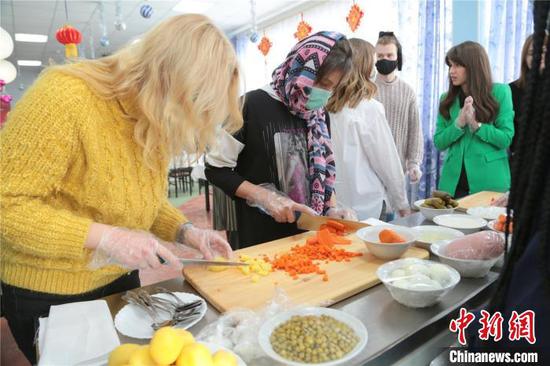 Over 50 college students from seven countries learn to make dumplings in Heihe, northeast China's Heilongjiang Province. (Photo provided to China News Service by Heihe local authorities)
(ECNS) -- More than 50 college students from seven countries participated in an activity jointly held by Heihe in China's Heilongjiang and the Amur State University in Russia's Blagoveshchensk to celebrate the upcoming Chinese New Year, or the Spring Festival, said Heihe local authorities on Wednesday.
From China, Russia and some African countries, these students have joined in a series of Spring Festival activities, such as writing Chinese character Fu (good fortune in Chinese), pasting Spring Festival couplets, making dumplings, etc.
They tried traditional Chinese clothes on this special day and held a dumpling making competition. They prepared dumpling wrappers, put fillings in them, folded, cooked them in boiled water, and then tasted them.
What's more, they also shot a video to extend their new year greetings in the forthcoming year of the tiger of Chinese lunar calendar.
As twin cities on the opposite sides of the Heilongjiang River, Heihe and Blagoveshchensk have close exchanges. The Chinese New Year event is one of China-Russia cultural exchange activities held in Heihe and has won wide support from the local government of Blagoveshchensk and other related parties.