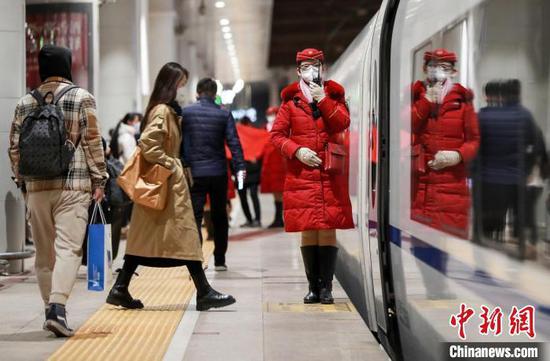 Photo shows a passenger boards a train at the Beijing West Station, January 17, 2022. (Photo/China News Service)
(ECNS) -- China's Spring Festival travel rush in 2022 is expected to see about 1.08 billion trips, according to China's Ministry of Transport.
Chinese transportation authorities have taken a series of measures and are using new technology to guarantee festival travel against the background of COVID-19.
The 12306 App, China's official mobile application to buy train and plane tickets, will conduct real-time inquiries regarding COVID-19 prevention and control measures at departures and destinations. The app also provides itinerary reminders, departure time-change notices, and temporary electronic travel identifications for passengers.
Railway stations and airports are also applying technology to fight against the pandemic during the Spring Festival travel rush.
For example, all the buttons in elevators at the Beijing South Railway Station have been covered with antibacterial and antiviral protective films, and intelligent disinfection robots will clean the station at fixed intervals.
The Beijing West Railway Station has installed five Health Code checking machines for passengers without smart phones. These machines can check the health status of passengers via facial recognition and ID card-scanning to ensure safe trips.
The Wuhan Railway Station has arranged 40 mobile Health Code machines outside the exit to check passenger information, 14-day travel history, vaccinations, and nucleic acid testing by scanning passenger ID cards.
In addition, China's railway authorities have made emergency plans for the insurrections of the pandemic.
Some railway stations and airports have also set up 24-hour nucleic acid testing points to better support passenger trips during the travel rush.