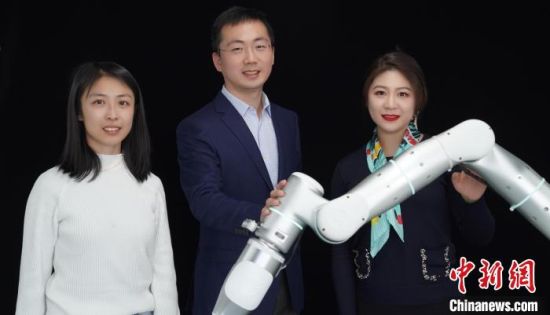 Photo shows the autonomous robot for needle-free vaccinations developed by the research team from Tongji University. (Photo provided to China News Service by Tongji University)
(ECNS) -- A Chinese research team released an autonomous robot for needle-free vaccinations in Shanghai on Monday.
The robot uses the world's leading 3D model recognition algorithm and adaptive robot technology. Combined with the design of needle-free syringe mechatronics, it can automatically identify an injection location on the human body, such as the deltoid muscle.
By attaching the end of the syringe to the human body vertically and tightly, it improves the injection effect and lessens the pain. Its arm can precisely control pressure on the human body during the injection to ensure safety.
Drug injection can be completed within half a second with accuracy reaching 0.01 milliliters, which can be applied to different vaccine dose requirements.
With injection depth controllable, it also can be applied to different kinds of vaccines injected subcutaneously or intramuscularly, and meet the injection demands of different groups of people.
Compared to needles, the injection is safer and helps people with their fear of needles.
The robot was jointly developed by Tongji University led by Qi Peng, Chinese technology enterprises and the Center for Cardiovascular Innovations.
Medical robots, together with mobile vaccination vehicles, will provide citywide vaccinations and avoid the risk of cross injections, according to the research team.