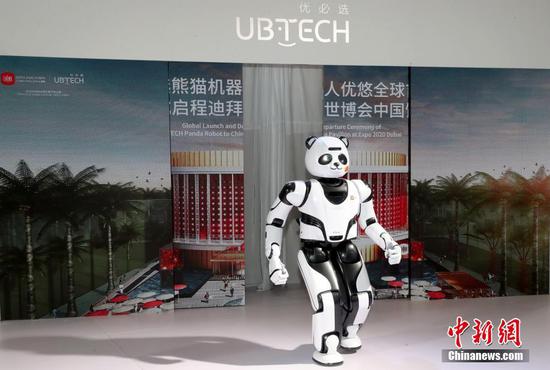 Photo shows a robot on 2021 World Robot Confernce held in Beijing during September 10 to 13. (Photo/China News Service)
(ECNS) -- China has been the largest industrial robots consumer in the world for eight consecutive years, the Ministry of Industry and Information Technology said at a press conference Tuesday.
The ministry released a jointly drafted development plan for the robot industry during the 14th Five-Year Plan (2021-2025) at the conference.
"Every 1,000 workers in China's manufacturing industry could work with 246 robots in 2020, nearly twice the global average level," said Wang Weiming, a ministry official.
In 2020, the turnover of the robot industry exceeded 100 billion yuan (about $15.7 billion) for the first time. During the 13th Five-Year Plan (2015-2020), the compound annual growth rate was about 15 percent, in which the output of industrial robots increased from 72,000 sets to 212,000 sets, with an average annual growth of 31 percent, said Wang.
During the 13th Five-Year Plan, the application of robots was widened greatly in China, covering 52 industries such as automobiles, electronics, metallurgy, light industry, petrochemicals, and medicine. In addition, large-scale applications were realized in warehousing and logistics, education and entertainment, cleaning services, security inspections, and medical rehabilitation, Wang added.
The development plan for China's robot industry during the 14th Five-Year Plan has set goals for industrial innovation, high-end products supply, applications, industrial structure optimization and more.