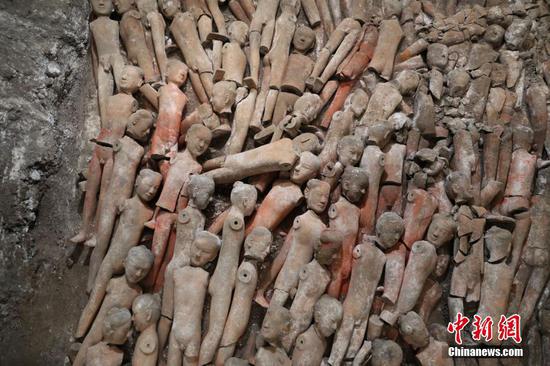 Photo shows the cultural relics unearthed from the mausoleum of Emperor Wen of the Han Dynasty. (Photo provided to China News Service by Shaanxi Academy of Archaeology)
(ECNS) -- A tomb discovered in Jiangcun village, Xi'an, Shaanxi Province, has been proven to belong to Emperor Wen, the third emperor of the Western Han Dynasty (206BC-AD25), China's National Cultural Heritage Administration (NCHA) said on Tuesday.
The discovery of the tomb is the result of a grave robbery case 19 years ago.
In 2002, six black terracotta figures of the Western Han Dynasty stolen from this tomb appeared at a Sotheby's auction in the U.S., bringing clues of the tomb to Chinese archaeologists for the first time. The Chinese government then made representations over time through diplomatic channels.
The six black terracotta figures were removed from the auction list before the auction started. Entrusted by the NCHA, I answered 11 questions raised by Sotheby's regarding the authenticity of the figures, said Jiao Nanfeng, a Chinese archaeologist.
The terracotta figures were eventually returned to Xi'an in 2003 after much effort. Then an investigation into the origin of the cultural relics finally proved that they were stolen from the tomb in Jiangcun village.
In 2006, archaeologists conducted a survey there and found a giant tomb.
Further exploration found that the total length of its east and west tunnels is about 250 meters long, which is the grandest configuration in the burial structure, exceeding the specifications of princesses and vassals.
Based on historical documents and research materials, the archaeological community unanimously determined that this tomb was the mausoleum of Emperor Wen of the Han Dynasty.