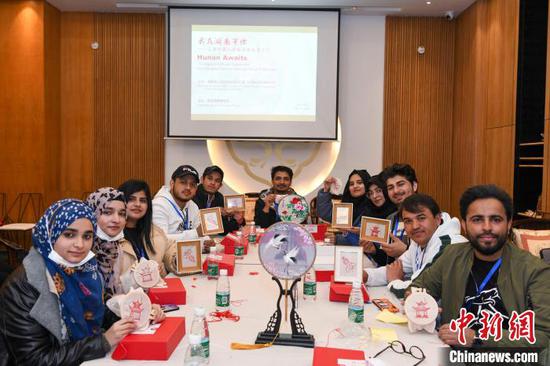 Pakistani students from Hunan University of Chinese Medicine pose for a group photo, Dec. 7, 2021. (Photo: China News Service/Yang Huafeng)
(ECNS) -- More than a dozen Pakistani students at Hunan University of Chinese Medicine learned how to create a piece of exquisite Hunan embroidery while visiting the Hunan Embroidery Museum on Tuesday.
Nawaz Shah was stunned upon seeing "Sika Deer" and "Water-Drinking Horse" embroidered during the Qing Dynasty (1636-1912). He was amazed by the long-standing and well-established Chinese culture.
A double-sided "Panda-Tiger" embroidery, with complex needling and life-like images, wowed the students and was dubbed a "Magical masterpiece."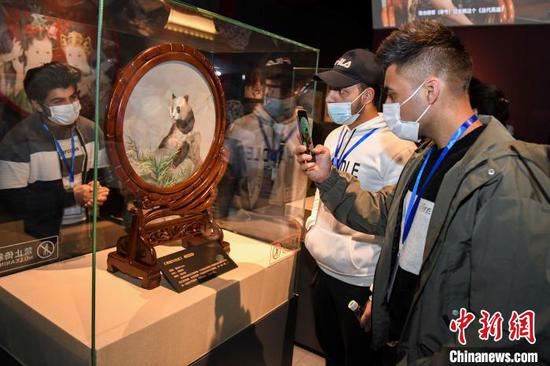 A double-sided "Panda-Tiger" embroidery is on display at
the Hunan Embroidery Museum
. (Photo: China News Service/Yang Huafeng)
It looks like a real panda, and the skills of Hunan embroidery are really surprising and admiring, said Syed Asad Dastageer.
Masters of Hunan embroidery, or Xiang embroidery, instructed the Pakistani students to make their own Hunan embroideries.
Umair Khan, a young Pakistani man who came to China to study in 2017, expressed his fondness for Hunan embroidery after finishing his work "The Lobster."
There is also embroidery in Pakistan, said Tayyaba Hussain. But Hunan embroidery boasts a longer history, is more innovative, and caters more to young people nowadays, making it very popular in Pakistan, she added.
As one of the four most distinguished embroidery styles in China, together with the Su, Sichuan, and Cantonese varieties, Hunan embroidery has attracted numerous foreigners after winning awards at international expos.
As the Belt and Road Initiative boosts the overseas market for Hunan embroidery, the ancient embroidery style has revived and integrated into ordinary life. More and more innovative products concerning Hunan embroidery culture like notebooks and stereos have become pretty popular in recent years.
The event attended by the Pakistani students, "Hunan Awaits - Foreigners in Hunan Experience the Intangible Cultural Heritage Hunan Embroidery," wrapped up in Changsha, capital of China's Hunan Province on Tuesday.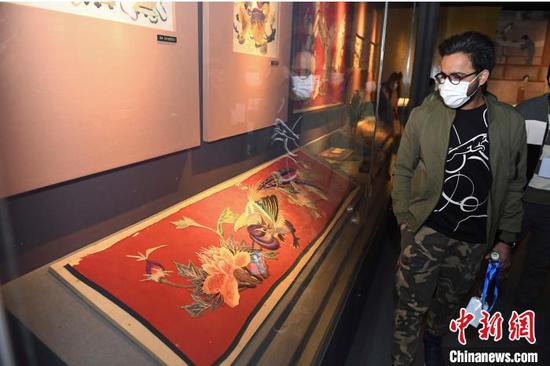 Embroidery works are
on display
at the
Hunan Embroidery Museum
. (Photo: China News Service/Yang Huafeng)