(ECNS) -- Hundreds of caves in the Mogao Grottoes, located in Dunhuang of northwest China's Gansu Province, have been restored, and 258 caves have been digitally recorded since the 1990s, according to Su Bomin, director of Dunhuang Academy.
Since the inception of Dunhuang Academy in 1994, more than 100 Dunhuang art exhibitions have been held in 18 countries around the world and 20 provinces in China by adopting Dunhuang murals, movable cultural relics, and digitized artworks.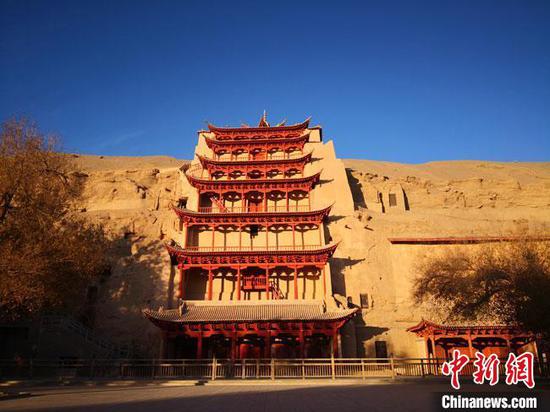 One of the representative buildings of Mogao Grottoes is showered by the light of the morning sun. (Photo: China News Service/Feng Zhijun)
In addition, Dunhuang Academy has accelerated cooperation with science & technology companies for the popularization of Dunhuang culture on the basis of digitized filing and cultural relic protection.
As the holy land of Buddhist art, with the largest scale and the richest contents, the Mogao Grottoes were built more than 1,650 years ago. Currently, there are 735 caves, among which 492 have been preserved.
Since the Mogao Grottoes were opened to the public in 1979, more than 20 million trips have been made as of 2020.