(ECNS) -- China's comprehensive utilization of industrial solid waste, including metallurgical slag and tailings, reached around two billion tons in 2020, according to the latest statistics from the Ministry of Industry and Information Technology (MIIT).
The use of more than 10 renewable resources, such as waste paper, waste steel and waste plastics, reached 380 million tons, and the emission of key pollutants by key industries was reduced by more than 20 percent from that in 2015.
During the 13th Five-Year Plan, China made advances in the green development of industries, according to Huang Libin, director-general of MIIT's Department of Energy Saving and Comprehensive Utilization.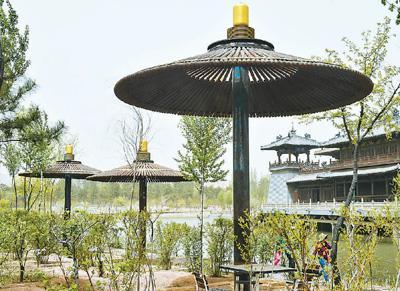 A pavilion made of solid waste from local factories is seen in Yungang Grottoes in Datong, northwest China's Shanxi Province. (Photo: Xinhua)
Data shows that energy consumption and water consumption per unit of industrial added value were reduced by about 16 percent and 40 percent respectively during the 13th Five-Year Plan, added Huang.