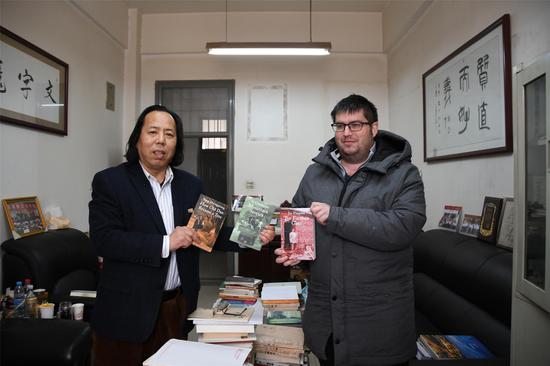 Robin Gilbank (R) and Hu Zongfeng(L), a professor of the Noethwest University, with three Chinese novels that are translated by them and published, Jan. 27, 2018. (Photo/Xinhua)
(ECNS) -- Robin Gilbank, a British scholar, has jointly translated a dozen works of Shaanxi writers during his over-a-decade teaching career at Northwest University in Xi'an, capital of Shaanxi Province, since 2008, hoping to introduce Shaanxi-themed literature to the world.
"I've been translating indigenous Shaanxi literature for over a decade and enjoy it more and more," said Gilbank. He couldn't speak Chinese when he first came to China, so he put effort into learning the Shaanxi dialect in order to better understand local culture and works to translate.
"I have been to dozens of counties in the province to experience local customs and live the life described by these indigenous writers," Gilbank said. He once lived in cave-dwellings and slept on the Kang, a kind of heatable earth bed unique to north China. He even tried to plant peanuts in the countryside. Such experiences helped him understand these works.
Though engaged in literature translation for more than a decade, Gilbank still finds it a challenge since he has to make sure these translations are understandable to English readers while retaining their original flavor.
Gilbank has also published his own books including Exploring China, seeking to depict a real China and Chinese culture to his readers.
He has fallen in love with Xi'an, including its lifestyle, food, culture and history, climate, etc. According to him, he loves Shaanxi-style noodles and sandwiches, while he often makes dumplings at home.
"I want to tell Shaanxi story to more readers," said Gilbank. He hopes to translate more local works into English, creating a bridge for cultural exchanges between Chinese culture and the world.