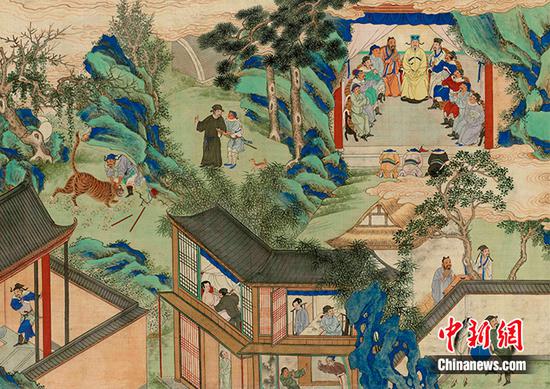 Photo shows an anonymous painting of 18th century. (Photo provided to China News Service by Staatliche Kunstsammlungen Dresden)
(ECNS) -- "La-Chine: the 18th Century China-Collection " exhibition opened Friday in Staatliche Kunstsammlungen Dresden (SKD) in Germany.
More than 120 Gusu (now Suzhou in China's Jiangsu Province) woodcuts from the Kangxi to Yongzheng periods (1661-1735) of the Qing Dynasty (1636-1912), over 1,000 Chinese folk paintings from the Late Ming and Early Qing dynasties (about 17th century), and 800 European paintings of chinoiserie that imitate Chinese woodcuts and drawings are on display.
These collections have been gathering dust for more than 200 years since compiled into the catalogue, said Wang Xiaoming, an expert on Chinese woodcuts.
Chinese folk woodcuts and drawings of the 17th and 18th centuries have attracted many European adventurers, businessmen, academicians and doctors in the Age of Discovery (15th-18th century) to China, opening a century long worship of Chinese art and chinoiserie, according to Wang.
"This exhibition will help the world learn more about Chinese woodcuts and drawings of the early Qing dynasty. It is a chance for the world to deepen its understanding of Chinese culture as well as a window to showcase the charms of ancient Chinese culture and art to Europeans," he added.
Stephanie Buck, curator of SKD's Kupferstich-Kabinett, said the Chinese artworks and chinoiserie are the earliest collections here, most of them unknown. "This public exhibition is a milestone for research and international academic exchanges," said Buck.
It is the first time Chinese artworks from the 17th and 18th centuries have been exhibited in SKD.
SKD is one of the most renowned and oldest museum institutions in the world with its court collections from the 16th-century Saxon electors. The woodcut branch of SKD, established in 1720, has collected about 515 thousand woodcut prints and drawings of various types from across the world.