(ECNS) -- 2021 Guangzhou Hanfu Festival kicked off in Haizhu Wetland Park of Guangzhou, capital of south China's Guangdong Province on Sunday, attracting Hanfu (traditional Chinese apparel) enthusiasts from across China.
On stage, models showcased gorgeous Hanfu made of gambiered Guangdong silk to the public.
Offstage, they toured the beautiful park dressed in Hanfu.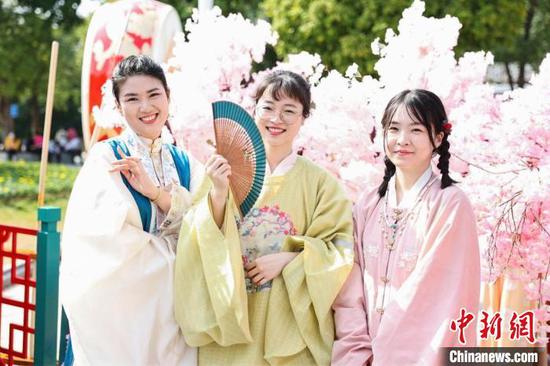 Hanfu enthusiasts show up at 2021 Guangzhou Hanfu Festival. (Photo: China News Service/Lu Kezhuo)
Apart from performances, cultural exhibitions were held, displaying treasures found along the ancient maritime Silk Road and music from Lingnan (an area to the south of Lingnan Mountain).
In addition, the theme song composed by KuGou, a Guangzhou-born cultural company, and The Seaing, a famous Chinese-style music club, reflected the charm of traditional Chinese culture and Hanfu.