(ECNS) -- ISOCELL HP1, the first 200-million-pixel mobile image sensor developed by Samsung Group was unveiled at the 4th China International Import Expo (CIIE) in Shanghai.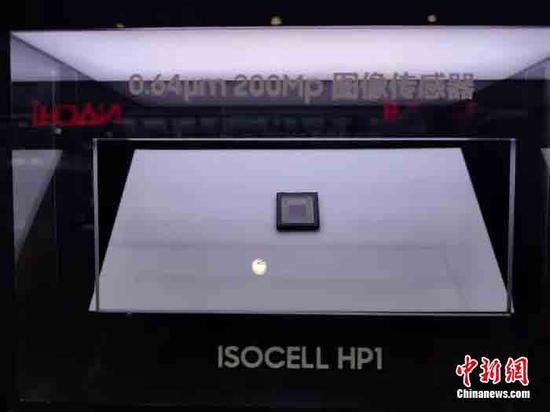 The first 200-mln-pixel mobile image sensor developed by Samsung Group. (Photo: China News Service/Zhang Xu)
The advanced sensor can generate ultrahigh-resolution pictures by virtue of its multi-pixel synthesis technology even in environments with insufficient light, according to staff.
There are two modes of the mobile image sensor: the 2x2 mode that can generate 50-million-pixel resolution, with the single pixel size of 1.28 micrometers, and the 4x4 mode that can generate 12.5-million-pixel resolution pictures, with the single pixel size of 2.56 micrometers.
Bigger pixel sizes can enhance the light capture capacity and light sensitivity of the mobile image sensor, resulting in images of higher quality.
The sensor will be commercially released with the new generation of smartphones as early as the first quarter next year.
Apart from the mobile image sensor, Samsung also displayed pioneering products from across multiple industries. The 14nm DDR5 internal storage, the first to adopt extreme ultraviolet lithography (EUV) technology, is of great significance in the green development of the IT industry. In addition, the innovative 5nm EUV wearable chip, Exynos W920, has its GPU graphics performance dramatically improved. And the exclusive image sensor, ISOCELL Auto4AC, will provide more accurate data for automatic driving systems.
The 4rth CIIE kicked off Thursday night in Shanghai. Nearly 300 enterprises from more than 35 countries and regions have displayed their products and technologies at the Intelligent Industry and Information Technology Exhibition Area.